Piles (Haemorrhoids) also know as Arsh in Ayurveda referred to Swollen, and inflamed veins in the rectum, and anus that cause discomfort, and bleeding.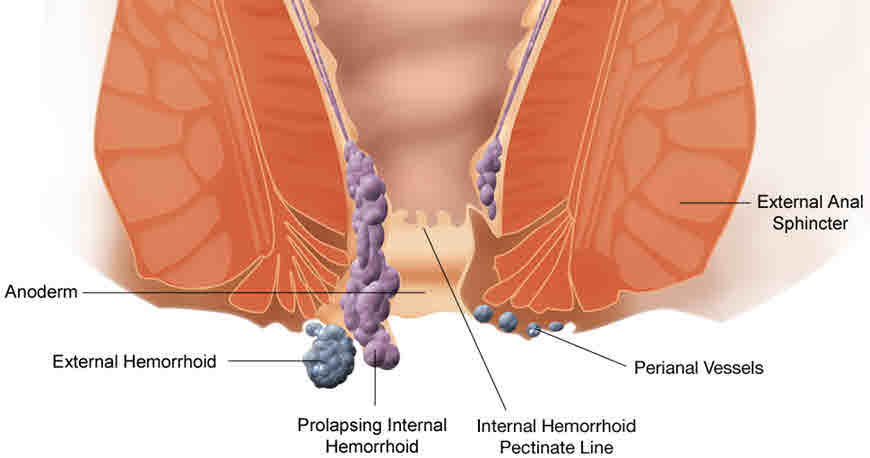 Piles are usually caused by straining during bowel movements, obesity or pregnancy.
Discomfort, and pain is a common symptom of Piles, especially during bowel movements or when sitting on chair or cycle. Other symptoms may include itching, and bleeding in anus, and rectum. Piles are mostly caused by constipation.
Ayurvedic Medicines to treat Piles
Abhayarishta
The intake of Abhayarishta gives relief in constipation, and improves appetite, and digestive power. Abhayarishta is especially indicated for piles, and constipation. Mainly Indicated in Constipation, Piles, Fissures, Hyperacidity, and Loss of appetite, Flatulence. Read more about Abhayarishta
Key Ingredients
Terminalia chebula, Vitis vinifera, Embelia Ribes, Madhuca indica, Jaggary, Tribulus terrestris, Operculina turpethum, Coriandrum sativum, Woodfordia fruticosa, Citrullus colocynthis, Piper cubeba, Foeniculum vulgare, Zingiber officinale, Boliospermum montanum, Salmalia malabarica.
Dosage, and Directions to use
12 to 24 ml after meals with water, twice daily.
Lodhrasava / (Rodhrasava)
Lodhrasava is effective in Piles, Menorrhagia, and Leucorrhoea. It is a uterine tonic. It corrects menstrual disorders. It also has digestive, blood purifier, and it has laxative properties. Mainly Indicated in Menorrhagia, leucorrhoea, skin diseases, bleeding piles, grahani (Irritable bowel syndrome). Read more about Lodhrasava
Key Ingredients
Symplocos racemosa, Mersdenia tenacissima, Hedychium spicatium, embelia ribes, clerodendrum serratam, Valeriana wallichii, Holarrhens antidysenterica (seeds), Areca catechce, Callicarpa macrophylla, etc.
Dosage, and Directions to use
12 to 24 ml after meals with water, twice daily
Takrarishta
Takrarishta is poly-herbal acidic fermented preparation from gau dugdha, and is mentioned in Charak Sahinta. It contains  This formulation is useful in piles, intestinal parasites, IBS, loose motions, other digestive problems, and for weight loss. Read more about Takrarishta
Key Ingredients
Gau Takra (buttermilk which is prepared from curd of cow's milk), Amla, Harada, Marich, Ajwain, and PAnchlavan (Saindhava namak, Sauvarcala namak, Bida namak, Audbhida namak, and Samudra namak).
Dosage, and Directions to use
12 to 24 ml after meals with water, twice daily.
Kalyanak Guda
Kutajavaleha is used in the treatment of piles, ulcerative colitis, diarrhea, IBS, anemia, bleeding disorders, gastritis, inflammatory conditions. It helps both to treat the intestinal complaint, and also helps to put on weight. People with IBS, and ulcerative colitis tend to lose weight quickly. This medicine is especially suitable for them. It is also used in the treatment of the liver complaints, and It is also useful in improving female fertility. Read more about Kutajavaleha
Key Ingredients
12 grams of each vidhanga, pippali mula, haritaki, bibihitaka, Amalaki, dhaniya, chitraka, maricha, indrayava, shvet jiraka, pippali, gajapippali, yavani, Tila taila 384 grams, Amla juice 2.3 liters, jaggery or guda 2.4 kg, 12 grams each of panch lavan
Dosage, and Directions to use
6-12 gm with warm water or milk, twice a day.
Dosage for children below 5 years of age – 1 – 2 grams, once or twice a day, along with a teaspoon of honey or warm water/milk.
Manibhadra Yoga / Manibhadra Guda
This medicine is also known as manibhadra Gulam or Manibhadra Gud or Manibhadra leham. Guda refers to jaggery. This medicine is prepared in jaggery base. Manibhadra Yoga has antimicrobial properties, and is useful in worm infestation. This medicine is also useful in the treatment of the skin diseases, spleen diseases, piles, and cough. Read more about Manibhadra leham.
Key Ingredients
Vidanga Embelia Ribes Fruit rind 48 grams, Amalaki Emblica Officinalis Fruit rind 48 grams, Haritaki Terminalia chebula Fruit rind 48 grams, Trivrit Operculina turpenthum Root bark 144 grams, Guda 576 grams
Dosage, and Directions to use
6-12 grams twice a day or as directed by a physician. The Anupan (fluid vehicle or drink with medicine) for Manibhadra Yoga is Water, Milk.
Triphala Guggulu
Triphala guggul or Guggulu is an ayurvedic formulation that contains guggul, and Triphala. Guggul is gum resin of the Commiphora Mukul tree. Triphala guggul is useful in constipation, gastrointestinal health, and weight loss. It is a herbal preparation helpful in detoxification, improving metabolism, and is a great rejuvenator. Read more about Triphala guggul.
Key Ingredients
Guggulu -Shuddha Commiphora wightii O.R. 240 g, Haritaki Terminalia chebula P. 48 g, Bibhitaka Terminalia belerica P. 48 g,  Amalki Emblica Officinalis P. 48 g,  Pippali Piper longum Fr. 48 g
Dosage, and Directions to use
Up to 3 gm. in divided doses with warm water. or
2-4 tablets, twice a day with Triphala kwath/ Go-mutra or warm water.
Kasisadi Taila
Regular topical application of Kasisadi Tail for a few weeks helps in softening the hemorrhoids, corns, and warts, and reducing their size. It reduces itching in hemorrhoids. Read more about Kasisadi Tail
Key Ingredients
Kasisa, Saindhava lavana, Krsna (pippali), Sunthi, Kustha, Langali, Silabhid (pasanabheda), Asvamara (karavira), Danti, Jantughna (vidanga), Citraka, Talaka (haritala), Kunati (manahsila), Svarnaksira, Sunthin payas (sunhi), Arkapayas,Taila (Tila), and Gomutra
Directions to use
External use for piles
Ksharsutra
Kshara sutra (Ayurvedic medicated thread therapy) is a simple, safe, effective, and minimally invasive para surgical day care procedure for diseases like Fistula-in-Ano, and Piles.
Directions to use
Applied locally on the affected area
Kankayan Gutika
Kankayan Gutika or vati is ayurvedic medicine in tablet form which is used in the treatment of Gulma roga. Kankayan vati Gutika is very effective in the management of arsha (Piles). Read More about Kankayan Gutika
Key Ingredients
Hedychium spicatum, Inula recemosa, Baliospermum montamum, Plumbago zeylanica, Cajanus cajan, Zingiber officinale, Acorus calamus, Ipomea turpethum, Ferula asafoetida, Potassium carbonate, Garcinia pedunculata, Trachyspermum ammi, Cumminum cyminum, Piper nigrum, Coriandrum sativum, Nigella sativa, Apium graveolens
Dosage, and Directions to use
500 mg- 1 gm. twice a day with ghee, milk, or Triphala Kwath or water
Jaharamohara Bhasma
Jahar Mohra Bhasma is obtained by calcination of purified Jahar Mohra stone. For the preparation of Jahar Mohra Bhasma, Varahaputa should be given. Anupan (fluid vehicle) for Jahar Mohra Bhasma is Manjishtha Kvatha. Jaharmohra Bhasma ayurvedic medicine uses for Piles, Acidity, heartburn, etc. Read more about Jahar Mohra Bhasma
Key Ingredients
Jaharamohara Shuddha R.Q., Arjunatvak kvatha Q.S. for mardana, Vata jatankura (praroha) kvatha Q.S. for mardana
Dosage, and Directions to use
The recommended dosage of medicine is 65 to 250 mg thrice a day with honey or water, for adult. Children can be given 35 to 125 mg with honey or water twice a day.
Arsh Kuthara Rasa
Arsh Kuthara Rasa is an Ayurvedic hrbo-mineral medicine. It is very effective in the treatment of piles(Arsh). Read more about Arsh Kuthara Rasa.
Key Ingredients
Sehund latex 32 tola, go-mutra 138 tola, 4 tola Shuddha Parad, 8 tola shuddha Gandahk, 8 tola each lauha bhasma, and tamra bhasma, 20 tola each: Danti mula, Sonth, Kali Mirch, Pippali, Surankand, Vanshlochan, Shuddha Tankan, Yav kshar, Sendha namak.
Dosage, and Directions to use
250 mg once or twice a day with honey or water. These are prescription drugs, and should be taken after consulting a medical practitioner.
Should not be taken in Kidney diseases, and in the long term.
Laghumalini Vasanta Rasa
Laghu Malini Vasanta (LMV) Rasa is a well-known Vasanta Kalpa (formulation). It is effective in combating bleeding disorders like hemorrhoids, anal fistula, and colitis. It stops bleeding, and provides soothing effects to the body up to a great extent.
Key Ingredients
Butter, and lemon juice – Quantity sufficient, Rasaka Bhasma – Bhasma (Calx) of Zinc  Sulphide – 20 g, Maricha – Black pepper – Piper nigrum  10 g.
Dosage, and Directions to use
Take 250 mg once or twice a day, before or after food or as directed by Ayurvedic doctor. It is a traditionally administered along with milk, honey.
For treating piles it is very important to eat a high-fiber diet, along with stool softeners. In some cases, a medical procedure to remove the hemorrhoid may be needed to provide relief.