Licorice or Mulethi is a medicinal herb which is used in various Ayurvedic medicines. Its underground stems and roots are used for medicinal purpose. It has antioxidant, antimicrobial, anti-inflammatory and hepatoprotective properties.
Mulethi is useful in cough, sore throat, bronchitis, sexual weakness, skin problems, jaundice, hoarseness, vata dosha, ulcers etc. It has demulcent and expectorant properties.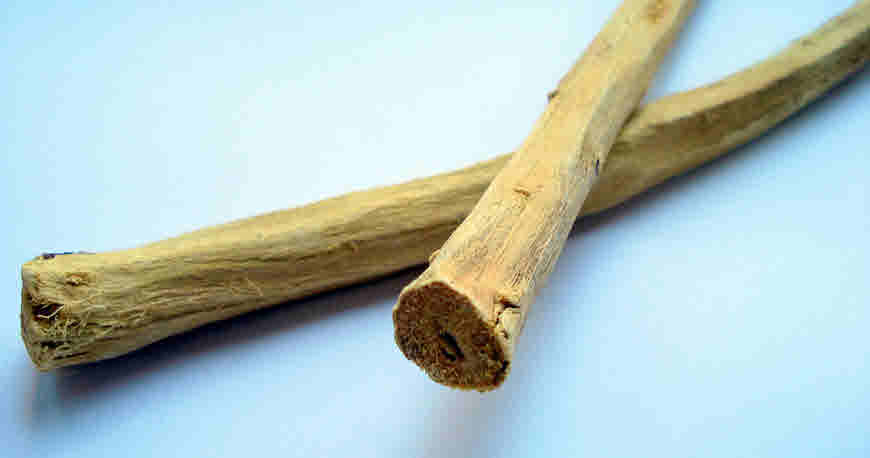 General Information
Common names in different languages
Latin name: Glycyrrhiza glabra
Sanskrit: Madhuyashti
Hindi: Mulhatti, Jethimadh, Mithilakdi
English: Sweetwood, Liquorice, Licorice
Bengali: Jashtimadhu
Gujrati: Jethi Madh
Marathi: Jeshtamadhu
Kannada: Jeshthamadhu
Malayalam: Itarttimadhuram, Erattimadhuram
Tamil: Atimadhuram
Telugu: Atimadhuramu
Here are few remedies using licorice or mulethi which can be done at home to cure various clinical conditions.
Mouth sores

Mix mulethi powder in lukewarm water and gargle 4 to 5 times in a day.

Weakness

Mix mulethi, shatawar and musli powder. Take this powder twice a day.

Cold and Cough, Upper respiratory infections

Take piece of mulethi root, tulsi (5-6 leaves), pudina (few leaves) and cook at low flame for 10 mins. Filter and drink.

Boils

Take mulethi leaves and apply on affected area.

Wounds

Grind mulethi roots and apply on affected area.

Ulcer, Ulcerative colitis

Mulethi is very useful in ulcer. It reduces secretion from stomach and produces thick protective mucus  lining which protects stomach from inflammations gastritis and peptic ulcerations.
Grind mulethi(7 gms) and cook in water (400 gm) till it reduces to 200 ml. Filter and drink.

Hoarseness of voice

Take mulethi, misri and black pepper and chew.

Eye related problems, digestive system problem

Take mulethi powder, fennel powder and amla powder. Mix all powders. Take this churna twice a day with water.

Dry skin, pimples, Glow on skin

Mix mulethi powder with milk and apply on skin.

Increase breast milk

Mix shatavar and mulethi powder. Cook in milk for few minutes. Add misri and drink.

Palpitation

Make decoction of mulethi root and Arjun bark. Filter and drink.
Jaundice
Make decoction of mulethi and drink.
Mulethi should not be consumed during pregnancy.