Garlic (Allium sativm) has antibacterial, antifungal, antiviral properties and used to treat respiratory infections such as cold, cough, and asthma. It is an antioxidant and improves body immunity to fight infections. Honey is also a well-known cold-cough remedy.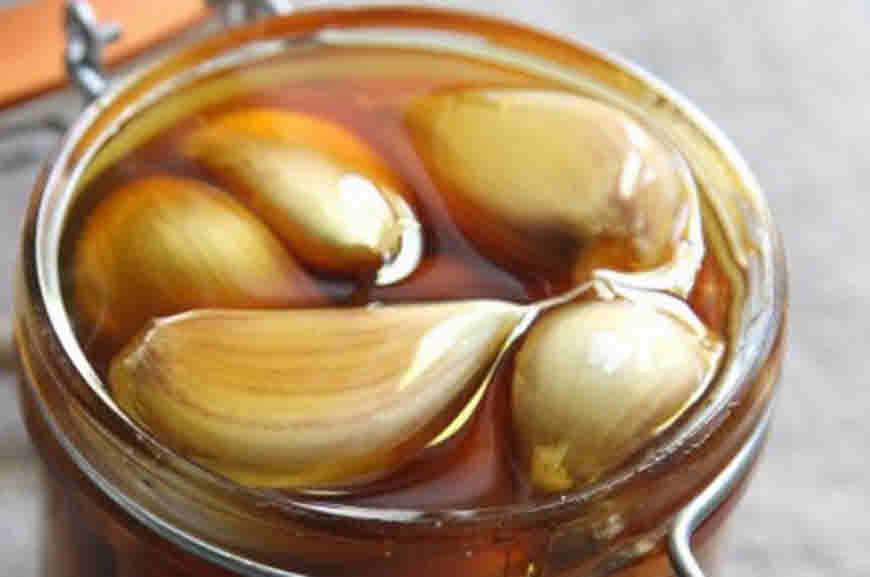 When Garlic and honey are mixed together then combined antimicrobial and antibiotic effect increases and this becomes broad spectrum medicine.
Recipe of Honey-Garlic
Take a small clean and dry glass jar.
Fill this jar with mature, peeled and chopped garlic cloves.
Pour honey in this jar till garlic cloves are completely submerged.
Close the lid and put in some warm place for 2-4 weeks. Stir the content occasionally.
After 2-4 weeks honey will be infused with garlic cloves.
You should use this garlic infused honey within three months.
While preparing garlic-honey syrup, always use dry and clean utensils. Always use dry spoon for taking out the syrup from jar.
Uses of Garlic Honey
Antioxidant and improves body immunity
Gives relief in cold, cough, sore throat and bronchitis
Effective cold and flu remedy, goodness of both garlic and honey
Start taking garlic honey when respiratory infection is in initial stage
The Dosage of Garlic-honey
Eat 1 teaspoonful every few hours till symptoms lessen.