Himalaya Haridra Capsules is a pure herb extract of Haridra or Turmeric. The Latin name of Haldi is Curcuma longa.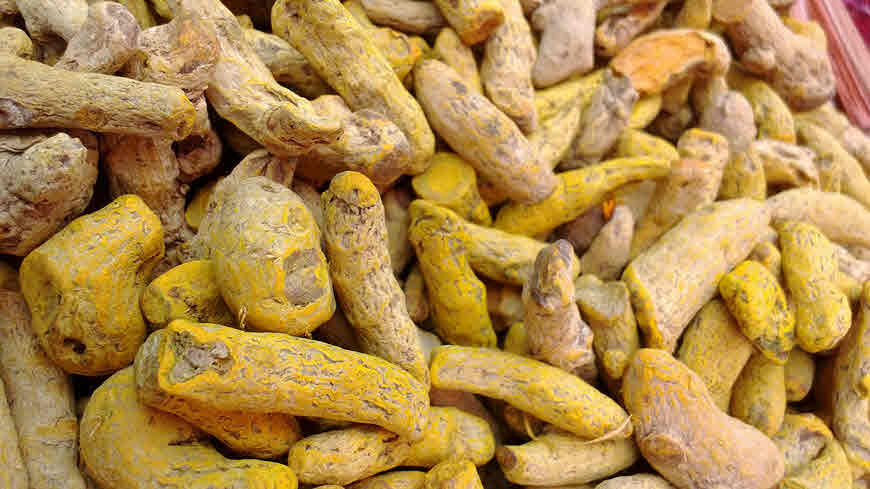 Haridra is used in every Indian kitchen as a spice. It has great therapeutic value as well. Its use for improving skin complexion and condition is well-known. When taken internally, Haridra protects against innumerable diseases. It reduces cholesterol, the increase of the liver enzymes SGOT and SGPT and gastric acid secretion.
If someone is suffering from recurrent allergic respiratory disorders like allergic rhinitis, allergic bronchitis, and skin allergies and urticaria, he or she must take haridra for a few months. This cures such allergic problems from the root.
Haldi has significant antioxidant, anti-inflammatory, the liver protecting and chemopreventive effects (inhibition of tumor formation, promotion, progression and dissemination in many animal models).  It works effectively in degenerative diseases with an inflammatory or oxidative basis like type 2 diabetes, arthritis, heart diseases, Alzheimer's and Parkinson's.
Here is given more about this medicine, such as benefits, indication/therapeutic uses, composition, and dosage.
Manufacturer / Brand: Himalaya Drug Company
Availability: Online and at medical stores
Type of medicine: Pure Herb extract of Curcuma longa
Main Indication: Allergy
Dhatu (tissue): All the tissues
Srotas (channel): Digestive, circulatory, respiratory, female reproductive
MRP/Price: Himalaya Haridra 60 Capsules @ Rs. 110
Ingredients of Himalaya Haridra Capsules
Each capsule contains Haridra (Curcuma longa) rhizome powder – 400 mg.
Constituents of Haridra or Turmeric
Volatile oil (3-5%): alpha- and beta-turmerone (aroma source), artumerone, alpha- and gamma-atlantone, curlone, zingiberene, curcumol
Curcuminoids (3-5%): curcumin (diferuloylmethane (sometimes referred to as curcumin or curcumin I), desmethoxycurcumin (curcumin II), bis-desmethoxycurcumin (curcumin III) and cyclocurcumin (curcumin IV))
Ayurvedic Properties and Action of Haridra
Haridra (also known as Rajni, Nisha, Nishi, Haldi, Haladhi, Turmeric) consists of the dried and cured rhizomes of Curcuma longa Linn. It mainly contains essential oil and curcumin.
Haridra is a broad spectrum medicine effective in indigestion, poor circulation, cough, cold, flu, skin disorders, diabetes, arthritis, Madhumeha, swelling, fever, bacterial infection, intestinal worms, the liver complaints, stammering, filaria, sprain, boils, wounds, conjunctivitis, thirst due to phlegm, allergic reactions, etc.
It is bitter/ Tikta, and pungent/Katu in taste (Rasa), pungent/Katu after digestion (Vipaka), and is hot in effect (Virya). It is Ruksha (drying) in quality (Guna).  Turmeric alleviates Vata and Kapha by virtue of its hot energy and Pitta via its bitter flavor.
Rasa (taste): Pungent, bitter, astringent
Virya (energy): Heating
Vipaka (post-digestive effect): Pungent
Guna (quality): Dry, light
Dosha effect: Reduces Vata-Pitta and Kapha, BUT increases Vata and Pitta if taken in excess
Turmeric balances vitiated Kapha and Pitta. It is anthelmintic (Krimighna) and poison-destroying (Vishaghna). It is used in all type of skin diseases both internally and externally. As it is drying in nature, it reduces excessive phlegm in the body. It detoxifies the blood.
Action / Karma
Artavajanan: Emmenagogue, Promotes menses
Dipana: Enkindles the digestive fire
Jvaraghn: Alleviates fever
Kanhdhughna: Stops itching
Krimighn: Worm destroying
Kushthhagn: Removes skin diseases
Lekhaniya: Scraping a property
Pandughna: Used in anemia
Prameha: Useful in diabetes
Raktashodhana: Blood purifier
Sandhaniya: Heals broken bones
Sirovirechana: Clearing stagnation from the head
Stanyashodhaka: Purifies breasts and breast milk
Varnya: Complexion enhancer
Vedanasthapana: Analgesic
Vishaghna: Destroys poisons
Biomedical Action
Anti-allergic: It protects and prevents recurrent allergic respiratory disorders like allergic rhinitis, allergic bronchitis, and skin allergies.
Anti-inflammatory: It reduces swelling when used internally or externally. It works in both acute and chronic inflammation.
Antioxidant: It has the ability to reduce oxidative stress. Hence, it helps in the management of conditions such as leukoplakia, diabetes mellitus, chronic eye disease, and tissue injury.
Anti-ulcer: It decreases gastric acid secretion, increases the mucin content of gastric juices and exerts gastroprotective effects against stress-, alcohol- and drug-induced ulcer formation.
Cholesterol Lowering: It prevents intestinal cholesterol absorption, by increasing the conversion of cholesterol into bile acids and increasing the excretion of bile acids.
Cytoprotective: It provides protection to cells against harmful agents.
Detoxifier: It is a natural blood detoxifier and anti-microbial which helps alleviate skin diseases and enhances the complexion.
Hepatoprotective: It protects the liver from diseases.
Neuroprotective: It is antioxidant and neuroprotective and helpful in the management of diseases such as Alzheimer's and Parkinson's.
Benefits of Himalaya Haridra Capsules
It is excellent in allergic/ inflammatory skin conditions.
It helps in any type of inflammation in the body.
It helps in preventing the progression of diabetes-related changes in organs like the kidneys, retina, nerve cells and minute blood vessels in the body.
It removes toxins from the body.
It gives relief in cough.
It is helpful in all intestinal infections and mucus conditions.
It treats inflammation of the joints, alleviates pain and
strengthens the joints and tendons.
It helps gout, arthritis, broken bones and wounds due to it's anti-inflammatory, analgesic and healing properties.
It has antiplatelet activity and scrapes accumulations from the channels.
It helps to stretch ligaments and repair injuries.
Important Therapeutic Uses of Himalaya Haridra Capsules
Allergic dermatitis, itching, other diseases of the skin
Allergic respiratory disorders including allergic rhinitis and allergic bronchitis
Allergic skin disorders
As an antioxidant supplement in diabetes, chronic eye disease and other chronic inflammatory conditions abdominal distention due to gas
Sheet-pitta or urticaria
Skin infections
Degenerative diseases
The Dosage of Himalaya Haridra Capsules
The recommended dosage of medicine is a 1-2 capsule.
It should be taken twice a day, in the morning and evening.
It can be taken with milk or water.
Or take as directed by a doctor.
Suggestions, Contraindications, Interactions, Side-effects, and Warnings
The drug should not be used by people with obstructed biliary ducts.
If suffering from gallstones take it only under the supervision of a physician.
It should not be used during pregnancy.
It has an antifertility effect.
Avoid consumption in medical doses while trying for conception.
Turmeric or its constituent curcumin affects the absorption of some beta blockers, increases the absorption of midazolam, but does not affect the absorption of iron.
Piperine, from pepper, enhances the bioavailability of curcumin.
The exact dose depends on the age, strength, digestive power of the patient, the nature of the illness, the state of the viscera and humours, and the properties of individual drugs.
Keep away from the sight and reach of children.
Pure Herbs are recommended for children ages 14 and above.
Stomach complaints can occur following extended use or in the case of an overdose.
It is drying in nature and may increase dryness of the skin.
Haridra should not be given if antiplatelet or anticoagulant medication is being taken.
In high doses, it can aggravate Pitta and Vata.
Health risks or side effects following the proper administration of designated therapeutic dosages are not recorded.