Know about some natural remedies of radish. Radish can help in cure of many diseases and health problems. In Ayurvedic medicines system this has mentions in many formulations.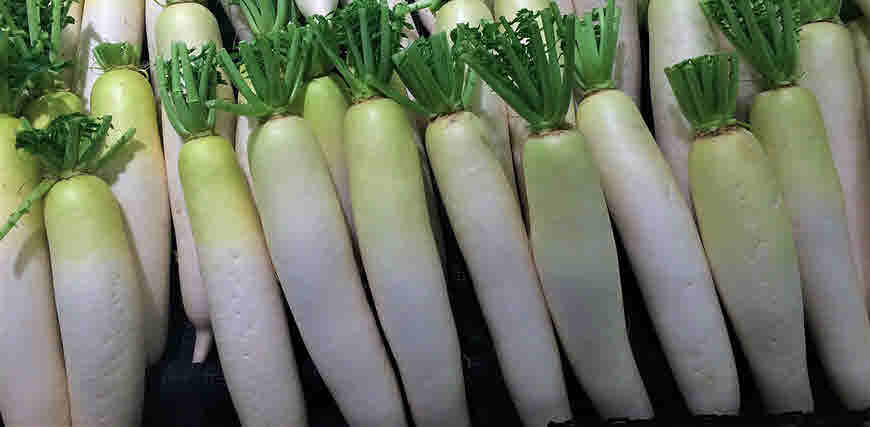 Radish is an annual or biennial plant with a short condensed stem and a cylindrical/round, tapering fleshy, succulent one tap root. The color, shape and size of radish depends on the variety. It can be spherical, long, white or purple. It is native to West Asia and now cultivated all over the world. In India it is grown in Uttar Pradesh, Punjab, Maharashtra and Gujarat.
Radish has antiseptic, antibacterial, antifungal, antioxidant, anti-rheumatic, appetite stimulant, diuretic, diaphoretic, rubefacient, and the liver protective activities. As food it offers many health benefits. But it can also be used as medicine for treating various common ailments. The root part of radish has thermogenic, digestive, laxative, anti-inflammatory, antibacterial properties. Traditionally it is used for treating piles, constipation, the liver diseases, cough, respiratory illness, bacterial infections and respiratory illness.
Latin: Raphanus sativus, English: Radish, Sanskrit: Mulaka , Hindi: Muli, Mooli, Marathi: Mula
Tamil: Mullanki, Telugu: Mullangi, Malayalam: Mullanki, Kannada: Mulangi
He are some medicinal uses of radish
Jaundice
Give white radish juice with a tsp of honey twice a day.
White spots on nails
Regularly eat white and purple radish with meals. Radish contains various essential minerals and vitamins that helps to cure white spot on nails.
Cold, cough
For preventing cold and cough regularly take radish juice with honey.
Pain in ears
Extract leaves juice of radish. Mix with sesame oil or til taila in equal amount. Cook this mixture till all water gets evaporated. Cool and filter it. Store in a bottle. Put 2 – 3 drops in the ear after warming.
Hiccups
Drink Juice of white radish to stop the hiccups.
Whooping cough
Mix one teaspoonful of fresh radish juice with an equal quantity of honey and a little rock salt. Take thrice a day.
Stimulating digestion, bile flow, curing constipation
Regularly eat radish with meals.
Radish is one of the most common vegetable which you can get very easily all over world. This vegetable is one of the great source of Iron, Calcium, Vitamins and other minerals. Radish green leaves are more healthy than It's bulb. This vegetable is more beneficiary when eaten in raw form as salad but you can also make some recipes like Paratha, fried Leaves bhaji, cooked vegetable, etc.
Here I am writing a recipe for making green radish leaves fry (saag in India). This recipe is very simple, quick and for those people who likes radish bitter taste.
Making Radish Green Leaves saag
Ingredients
-250 GM, Radish green leaves, washed and chopped in 1-2 cm long pieces.
-Cumin seed 1-2 pinch for crackle
-1 finely chopped green chilli
-2 chopped garlic cloves
-Mustard oil 2 spoon
-Salt to taste
Method
-Heat mustard oil n on frying pan, crackle cumin seeds and add chopped chili and garlic. Cook them till garlic become brown.
-Now add green leaves and salt in pan and mix them well and cook for 5-6 min by putting lid on pan.
-Stir 2-3 times in-between
Radish leaves sag is ready, and you can eat this with daal chawal chapati and parathas.
Recipe for making Radish chutney
Ingredient
-1 Fresh Mooli
-½  cup Imli ka ras (Tamarind juice)
-½ teaspoon sugar
-½ teaspoon salt
-½ teaspoon  roasted cumin powder (bhuna jeera powder)
-½ teaspoon black pepper powder
Method
1.    Grate mooli(radish)
2.    In grated mooli add all ingredient and mix well.
3.    Mooli chutney is ready.