Know about some natural remedies of radish. Radish can help in cure of many diseases and health problems. In Ayurvedic medicines system this has mentions in many formulations.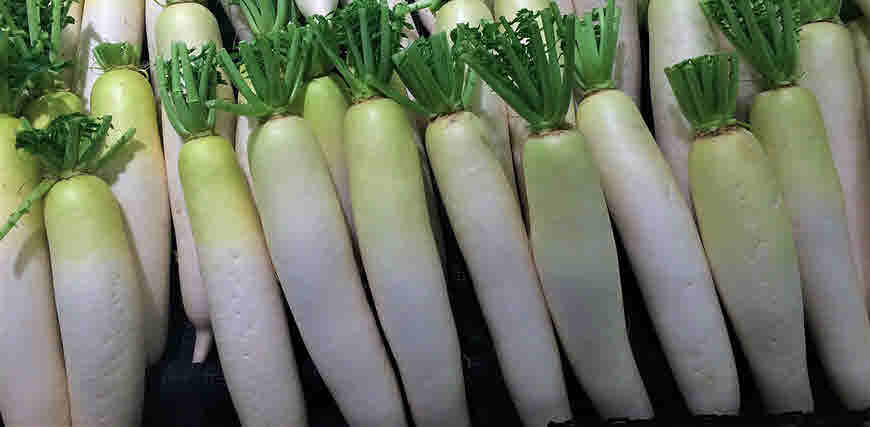 Radish is an annual or biennial plant with a short condensed stem and a cylindrical/round, tapering fleshy, succulent one tap root. The colour, shape and size of radish depends on the variety. It can be spherical, long, white or purple. It is native to West Asia and now cultivated all over the world. In India it is grown in Uttar Pradesh, Punjab, Maharashtra and Gujarat.
Radish has antiseptic, antibacterial, antifungal, antioxidant, anti-rheumatic, appetite stimulant, diuretic, diaphoretic, rubefacient, and liver protective activities. As food it offers many health benefits. But it can also be used as medicine for treating various common ailments. The root part of radish has thermogenic, digestive, laxative, anti-inflammatory, antibacterial properties. Traditionally it is used for treating piles, constipation, liver diseases, cough, respiratory illness, bacterial infections and respiratory illness.
Latin: Raphanus sativus, English: Radish, Sanskrit: Mulaka , Hindi: Muli, Mooli, Marathi: Mula
Tamil: Mullanki, Telugu: Mullangi, Malayalam: Mullanki, Kannada: Mulangi
He are some medicinal uses of radish
White spots on nails
Regularly eat white and purple radish with meals. Radish contains various essential minerals and vitamins that helps to cure white spot on nails.
Cold, cough
For preventing cold and cough regularly take radish juice with honey.
Pain in ears
Extract leaves juice of radish. Mix with sesame oil or til taila in equal amount. Cook this mixture till all water gets evaporated. Cool and filter it. Store in a bottle. Put 2 – 3 drops in the ear after warming.
Hiccups
Drink Juice of white radish to stop the hiccups.
Whooping cough
Mix one teaspoonful of fresh radish juice with an equal quantity of honey and a little rock salt. Take thrice a day.
Stimulating digestion, bile flow, curing constipation
Regularly eat radish with meals.