Onosma echioides is medicinal herb which is found in different parts of world like Siberia, France, Baluchistan, Kabul, India, etc. In India this herb is distributed in Kashmir, Kumaon and Himalyan range.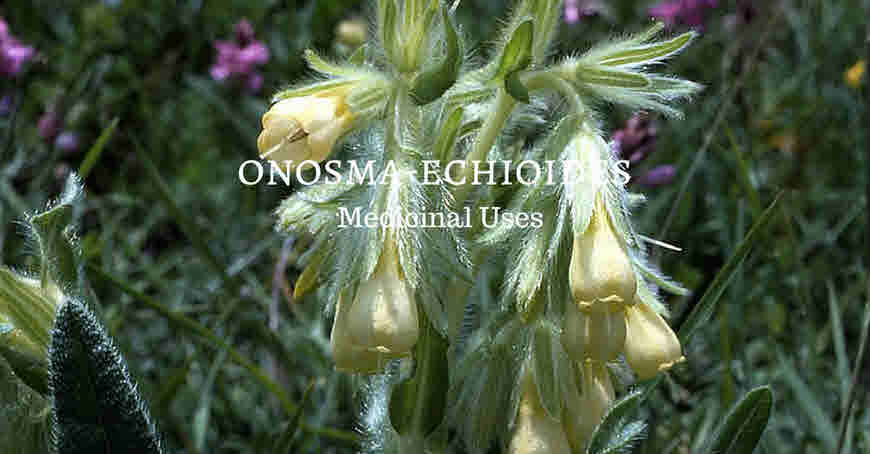 Onosma Echiodes is stimulant, diuretic and cardiac tonic. It is also applied externally on ulcers, scrofula and burns. This also provides natural red color dye which is used for coloring purpose.
General Information
Botanical Name: Onosma Echioides
English name: Onosma
Sanskrit: Ratanjot, Damini
Hindi: Laljadi, Balchadh, Balchadi
Here are few remedies that can be done at home using Onosma Echiodes
Heart problems, Cardiac Tonic, Palpitations

Prepare tea of Onosma leaves and drink regularly. This is tonic for the heart and helps in irregular heart beating.

Kidney stones

Prepare decoction of Onosma leaves and drink regularly twice a day for a few days.

Hysteria, fits, Epilepsy

Grind and prepare powder of Onosma roots. Take this root powder (1 gm) twice a day with water.

Blood purification, Skin disorders, Toxins in the body

Regularly use Onosma leaves to cure skin problems.

Skin problems

Prepare root powder of Onosma and take (1/2 gm) twice a day.

Hair greying and other hair problems

Mix henna powder and Onosma powder. Add water to this powder to make paste of medium consistency. Apply this paste on scalp for a few hours.