Daruhaldi (Berberis aristata) is used in Ayurvedic medicine from long time. It has hypoglycaemic, antibacterial, antifungal, antipyretic, anti-inflammatory, hepatoprotective and antioxidant activities.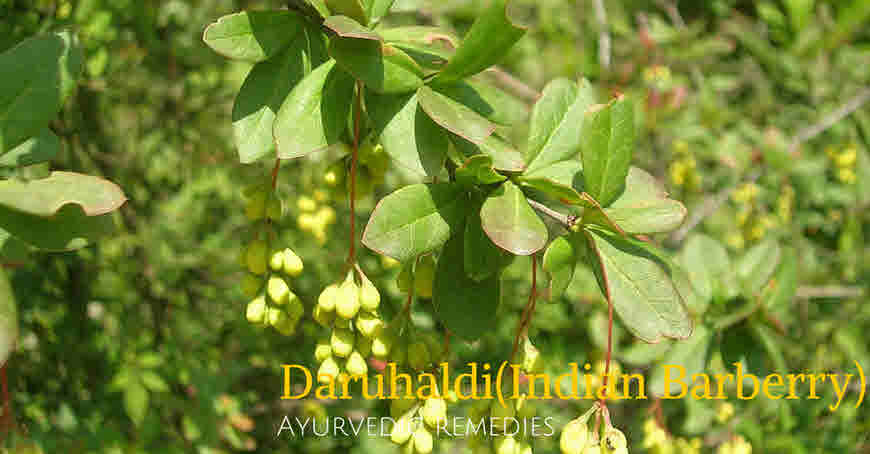 Barberry(Daruhaldi) or Tree Turmeric is a large thorny medicinal herb which is found in the Himalayan region at height of 2000-3000 meter, Nilgiri hills in south India, Srilanka, Bhutan, and hilly areas of Nepal.
Details of Daruhaldi
Botanical name:
Barberis aristata DC. FAmily: Berberidaceae
Sanskrit name:
Daruharidra, Darvi, Darurajani, Darhald
Hindi: Daruhaldi, English: Indian Berberry, Bengali: Daruharidra, Gujrati: Daruharidra, Daruhuladur, Kashmiri: Rasvat, Kannada: Maradarishana, Maradarishina, Daruhaladi, Malayalam: Maramannal, Maramanjal, Marathi: Daruhalad, Oriya: Daruharidra, Daruhalidi, Tamil: Gangeti, Varatiu manjal, Telugu: Manupasupu
Daruhaldi is used to treat the liver, ulcers, fever, infection in intestine, inflammation, cuts, wounds, eye and skin diseases, diarrhea, etc.
Rasaut:
Rasaut preparation: In some areas across India Daruhaldi is used in the form of Rasaut or Rashut. For preparing Rasaut, roots and lower stem of Daruhaldi is cooked in water. The amount of water taken is sixteen times of daruhaldi roots. It is cooked till water is reduced to one fourth. Then it is filtered and solution thus obtained is again cooked till it becomes semi-solid. This thickened preparation is dried, given a shape and stored for future use.
Rasaut uses:
Rasaut is used to cure stomach infection, piles, ulcers, fever, constipation, jaundice and eyes related problems.
Remedies of Indian barberry
Here are few remedies to cure various clinical conditions using fresh Indian Barberry and Rasaut. It is important to take this herb in lesser quantities as Berberine from this herb in a larger doses causes poisoning.
Ophthalmic, eye diseases
Mix Rasaut with ghee, alum and apply in eyes.
Stomach infection, Dysentery, acute diarrhea in children
Grind rasaut and mix with honey. Make child to lick this to cure stomach infections.
Piles (Bawasir), Ulcerative Colitis, Duodenal Ulcer, Infection in intestine
Take roots (5 gm) of Daruhaldi. Make decoction by boiling in water (400 ml) and take twice a day. This is beneficial in both types of piles.
Rasaut can also be used for piles treatment. For this dilute rasaut in thirty times water and wash the affected areas. Also take rasaut (1/8 tbsp) in butter (1 tbsp).
Eye related problems, Opthalmia
Grind branch of daruhaldi and apply like kajal in eye. This is beneficial in various eye diseases. Or apply rasaut externally on eyelids.
Remittent fevers
Make decoction of Daruhaldi roots (5 gm), dried giloy (5 gm) and few basil leaves in water (400 ml). When water reduces to one fourth filter and drink. Take this decoction twice a day. Do this for a few days. This cures chronic fever due to any reason.
It also has positive effect of the liver function.
Or take rasaut (1/8 tbsp) in cup of lukewarm water.
Jaundice
Make decoction of rasaut (1 cup), add honey and drink.
Boils, Ulcer, Skin diseases, wound
Grind leaves of Daruhaldi and apply on the affected areas.
Painful urination
Make decoction of rasaut (1 cup), add amla powder( ½ tbsp) and drink.