Tylophora asthmatica (Antamul) is medicinal perennial vine which is found in eastern, central and southern India, Sri Lanka, Thailand, Malaysia and Borneo. This herb is especially effective in the treatment of bronchial asthma. Various studies have shown that alkaloids of Tylophora indica suppress cellular immune response.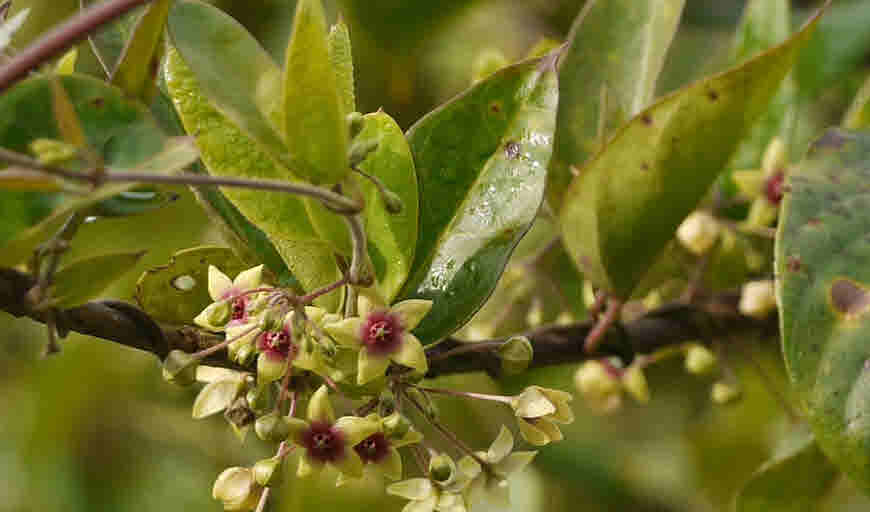 Antamul leaves are expectorant and used to treat respiratory infections, bronchitis and whooping cough. A clinical trial done on asthmatic patients has found that Tylophora indica fresh leaves chewed and swallowed daily with water in the early morning, empty stomach for a week gives moderate or complete relief of asthma symptoms. Its root or leaf powder is used in diarrhea, dysentery and intermittent malarial fever. Antamul has also analgesic property due to which it gives relief in earache, cystitis and lumbago.
General Information
Antamul is a small evergreen, climbing shrub. It is found in dry forest of sub-Himalayan tracts of North and East Bengal, Assam, Orissa, Konkan, Deccan, and plains of Tamil Nadu. Its botanical name is from the ancient Greek word tylos = knot and phoros = bearing.
It is called Indian Ipecacuanha, as the roots are used as an effective substitute for Ipecac, which was used to cause vomiting after suspected poisoning. The dried leaves of the plant are used as emetic, and expectorant and indicated in over-loaded states of the stomach and other cases requiring the use of emetics.
Its use to induce vomiting led to the inclusion of Tylophora in Bengal Pharmacopoeia of 1884.
It is a branching climber or shrub that grows up to 1.5 meters. Its leaves are obvate-oblong to elliptic-oblong, 3-10cm long and 1.5-7cm wide. Roots are long fleshy with longitudinally fissured light brown, corky bark. Flowers are minute, 1-1.5 cm across, in 2-3 flowered fascicles in axillary umbellate cymes. Calyx are divided nearly to the base, densely hairy outside, segments lanceolate, acute. Corolla is greenish yellow or greenish purple, lobes oblong, acute. Fruit is a follicle, up to 7 × 1cm, ovoid lanceolate, tapering at apex.
Scientific Classification
The botanical name of Anthrapachaka / Indian ipecac is Tylophora Indica. It belongs to plant family Asclepiadaceae. Below is given taxonomical classification of the plant.
Kingdom: Plantae – Plants
Subkingdom: Tracheobionta – Vascular plants
Superdivision: Spermatophyta – Seed plants
Division: Magnoliophyta – Flowering plants
Class: Magnoliopsida – Dicotyledons
Subclass: Asteridae
Order: Gentianales
Family: Asclepiadaceae – Milkweed family
Genus: Tylophora
Species: Tylophora indica (Burm. f.) Merr.
Synonym
Tylophora asthmatica
Asclepias asthmatica
Cynanchum indicum
Part(s) used for medicinal purpose: leaves, roots
Plant type: vine
Distribution: Assam, West Bengal, Orissa and Peninsular India.
Vernacular Names
Botanical name: Tylophora indica
Hindi: Janglipikvam, Antamul
Sanskrit: Antamul, Mulini, Arkaparni
Siddha: Nay Palai, Nangilaippiratti
Bengali: Antamul, anantamul
Guajarati: Damnivel, Dam bel
Kannada: adumutadhagida
Marathi: khodiki, Raasna, Atkari
Tamil: Nach­churuppam, nanja­murich­chaaan, nayppalai, peyppalai, kondachani
Telugu: Verripaala, vettipaala, kaakpaala, kukkapala, tellayadala, tellavedavela, neelataapiri.
Oriya: Mendi, mulini
Malayalam: Vallipaala
English: Emetic Swallow Wort, Indian or Country Ipecacuanha
Trade Name: Indian ipecacuanha, Emetic swallow­ wort
Constituents of Indian Ipecacuanha
The whole plant yielded alkaloids including tylophorine, tylphorinine, desmethyltylophorine and desmethyltylophorinine, and a flavonoid kaempferol. The root yielded alkaloids, tylophorinidine and gamma-fagarine. The leaves gave tylophorinidine, dsepticine, d-iso-tylocrebrine, triterpenoids alpha-and beta-amyrin, betasitosterol, stigmasterol and campesterol, phenylalanine, and quercetin. Tylophorine is quite toxic.
The Dosage of Antamul
The recommended dosage is 250 mg (once to 3 times daily, 0.1% of tylophorine per dose) or 1-2 ml per day (tincture). It is not suitable for the long term use.
It should not be used continuously for more than ten days.
Ayurvedic Properties and Action
Antamul is bitter in taste (Rasa), sweet after digestion (Vipaka), and is a cooling in effect (Virya).
It is a Sheet Virya herbs. Sheet Virya or Cool potency herb, subdues Pitta (Bile) Vata (Wind) and increases Kapha (Mucus). Sheet Virya herb gives nourishment to the body and steadiness.
Rasa (taste on the tongue): Tikta (Bitter)
Guna (Pharmacological Action): Ruksha (Dry), Laghu (Light)
Virya (Action): Sita (Cooling)
Vipaka (transformed state after digestion): Madhura (Sweet)
Action
Shvas: Good for breathing.
Anulomna: Supports downward motion of Vata / air.
Rakt shodhak: Removes toxins from blood.
Indication of Indian ipecac
It is used in the treatment of ailments of respiratory tract such as bronchitis, asthma, rhinitis hay fever, etc.
It is indicated in the treatment of amoebic dysentery and diarrhea due to anti-amoebic activity against axenic and polyaxenic strains of Entamoeba histolytica.
It is given in allergies and autoimmune disorders like rheumatism.
The leaves are used in the treatment of fever.
It significantly increases urine volume, cation, anion concentrations.
Important Medicinal Properties
Tylophora indica is rich in medicinal properties. The understanding of these properties will help us to better utilize this herb. These also indicate the conditions in which we should avoid it. For example, it is emetic and causes nausea and vomiting.
Below is given medicinal properties along with the meaning.
Anti–asthma: used to relieve the symptoms of asthma.
Antispasmodic: used to relieve spasm of involuntary muscle.
Anti–allergic: prevents, or relieves an allergy.
Antitumor / anticancer: preventing or inhibiting the formation or growth of tumors.
Alterative: Tending to restore to normal health.
Antipyretic/antifebrile/febrifuge: Effective against fever.
Diuretic: increased passing of urine
Expectorant: promotes the secretion of sputum by the air passages, used to treat coughs.
Emetic: causes vomiting.
Immunosuppressant: suppress or prevent the immune response. Immunosuppressant are used to prevent rejection of a transplanted organ and to treat autoimmune diseases such as psoriasis, rheumatoid arthritis, and Crohn's disease.
Medicinal Uses of Indian ipecac
Indian ipecac is used in the treatment of bronchitis, asthma, rhinitis, hay fever, allergy of respiratory tract. It has antispasmodic action and antiprotozoal action.
Here are few home remedies with Tylophora indica to cure whooping cough, respiratory infections, cold, etc.
Asthma, respiratory problems, cough, sore throat
Take 3­4 leaves of Antamul. Now wash leaves to clean the dirt and chew empty stomach. Drink glass of lukewarm water.
Whooping cough, allergy problem, bronchitis in children
This remedy can be used to cure cough, bronchitis in children. Take 1/4 leaf of Antamul. Grind it and mix with honey. Give this to child.
Cold and cough
Take 2 fresh leaves of Tylophora indica, Basil leaves, clove and ginger. Make decoction. Filter and drink to cure cold and cough.
Snake bite
Take root part of the plant, cut in small pieces and chew twice a day for two days.
Contraindications, Interactions, and Side Effects of Indian Ipecac
This herb should not be used in pregnancy due to abortifacient action.
It irritates the digestive tract.
It may cause severe nausea/vomiting.
It stimulates upward movement.
It has no drug interaction.
This herb should not be used for the long term. Use this herb maximum of ten days in one month.
It is better use this herb under medical guidance.
In excess it may cause sore mouth, loss of taste, vomiting, etc.