Diabetes is most common disorder in modern world which causes many other diseases. Their are many medications in all medicine system to control blood sugar levels. In Indian Ayurvedic medicine system there are many natural herbal treatments are available to control this disorder.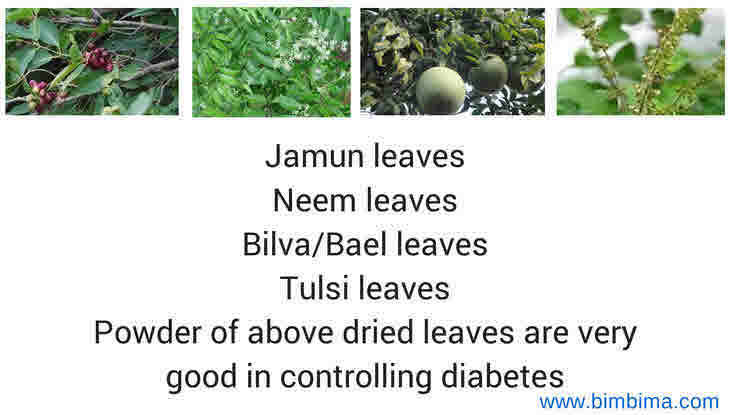 Overview
Most of the modern medications are costly to poor population as diabetic patients needs to take medication through out life. For these kind of people Ayurvedic herbal remedies can be very cheap and convenient option as most the herbal Ayurvedic medication has almost no cost. Their are many medication to control diabetes, here is one of them which is based on fresh leaves of Jamun, Neem, Bilva(Bael), Tulsai(Basil) leaves.
Ingredients
The ingredients required for making Homemade powder for controlling elevated sugar level due to diabetes
Fresh green Jamun leaves
Fresh green Neem leaves
Fresh green Bilva/bael leaves
Tulsi green leaves
Process to make powder
This homemade powder or churna is very simple to make. All you require fresh tree leaves. For collecting these leaves, select healthy trees grown at clean places. Avoid trees near garbage, drains and road sides. After collecting leaves clean them properly to remove impurities.
For cleaning purpose you may soak leaves for a few minutes in water. Then wash under running water. Wipe them to remove excess water. After this let the leaves dry for a few days. This will remove all the moisture. Now just grind them separately to get leaves powder.
Take equal amount of all powder that is say, 10 g powder of Jamun leaves, 10 g powder of Neem leaves, 10 g powder of BIlva leaves, and 10 g powder of Tulsi leaves. Mix all powder properly. This is homemade powder for diabetes management.
Dosage and administration
You should take one teaspoon of this powder twice a day, in morning and evening with water.
You should check the blood sugar before taking this powder. Again test the sugar level after 10-15 days. This is effective way to control blood sugar.
Side Effects
This is a herbal powder does not known to have any side-effects.
Other Ayurvedic Herbal remedies to control diabetes
Here are some other post on Ayurvedic remedies to control diabetes
Homemade natural remedies for Diabetes
Use of Banyan Tree for Controlling Diabetes
Ayurvedic Remedies for controlling diabetes
Bitter gourd powder for diabetes
Fenugreek seeds to control type 2 diabetes
Herbal cure for diabetes
Ayurveda for Controlling Diabetes