Tanacetum parthenium (Synonym Chrysanthemum parthenium, Matricaria parthenium) is popularly known as Feverfew, Bachelor's Buttons, and Featherfew. It belongs to a colder climate, and is found in throughout Europe, and North, and South America.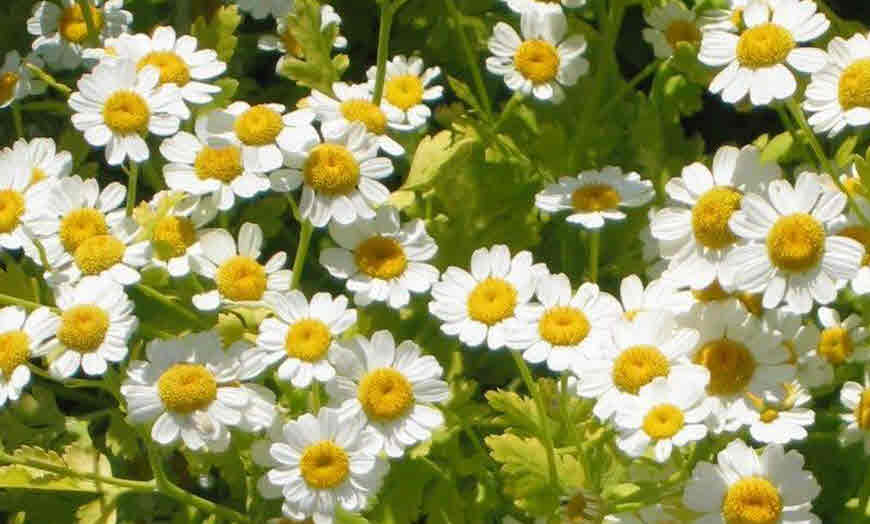 Tanacetum parthenium is medicinal plant, and its dried leaves, flowers, and stems are made into capsules, tablets, and liquid extracts, and teas, and taken to treat various conditions.
As a folk remedy, Feverfew was used in case of fever, headaches, constipation, diarrhea, difficulty in labor, and dizziness. Nowadays, its dietary supplement is used for migraine headache. Some studies also suggest Feverfew extract can be effective for migraine prevention.
Feverfew is also used in case of menstrual problems, rheumatoid arthritis, psoriasis, allergies, asthma, tinnitus, dizziness, nausea, vomiting, and intestinal parasites. Externally, it is used to reduce or prevent skin infections, and for toothaches.
TRADE NAMES
Feverfew
Feverfew Extract
Feverfew Leaf
Feverfew Traditional Herb
Herbal Sure Feverfew
Mygrafew
NuVeg Feverfew Leaf
Premium Feverfew Leaf
Standardized Feverfew Extract
SPECIES (FAMILY)
Tanacetum parthenium (L.) Schultz Bip. (Asteraceae/Compositae)
PART(S) USED
Leaf, aerial parts
SAFETY PROFILE OF FEVERFEW
Feverfew is considered SAFE. No health hazards or side effects are known in conjunction with the proper administration of designated therapeutic dosages.
Adverse effects reported for feverfew are mild, and transient.
The onset of side-effects with feverfew is reported to vary, with symptoms becoming apparent within the first week of treatment or appearing gradually over the first two months.
POSSIBLE SIDE EFFECTS OF FEVERFEW
Less common side effects can include nausea, digestive problems, and bloating.
SHORT TERM SIDE EFFECTS
Side effects can include:
nausea, vomiting
Abdominal pain
Bloating
Digestive problems
Gastrointestinal irritation
Glossitis
Heartburn
Stomatitis
if the fresh leaves are chewed, sores, and irritation of the mouth may occur.
LONG TERM SIDE EFFECTS
No major adverse effects with long-term use have been recorded.
But people who take feverfew for a long time, and then stop taking it may have the following health problems:
Anxiety
Difficulty Sleeping
Headaches
Stiff, and Painful Muscles
Post-Feverfew syndrome has been reported in about 10% of migraine patients who abruptly stopped taking Feverfew such as rebound headaches, insomnia, muscle stiffness, joint pain, fatigue, nervousness, and tension have occurred.
Occasional mouth ulceration, and gastric disturbances have been reported, but the incidence is low.
Contact allergy from Feverfew is known. Asteraceae dermatitis Symptoms include:
Lip swelling
Mouth ulceration, and soreness when the leaves are chewed
Several test-tube studies, and animal models have observed inhibition of platelet aggregation on the use of feverfew. But, no significant effects were seen in a small study of 10 patients receiving feverfew.
CONTRAINDICATIONS OF FEVERFEW LEAF & STEM
The herb is not to be used during pregnancy as it may cause the uterus to contract, increasing the risk of miscarriage or premature delivery.
Feverfew is contraindicated during breastfeeding.
Feverfew is contraindicated in those with known hypersensitivity to either feverfew, parthenolide or other members of the Compositae family.
Feverfew should only be considered as a treatment for migraine that has proved unresponsive to conventional forms of medication.
Although traditionally recommended as a remedy for rheumatic conditions, self-medication with feverfew should not be undertaken without first consulting a doctor.
PREGNANCY AND LACTATION
Feverfew is contra-indicated during pregnancy.
It is reputed to be an abortifacient, and to affect the menstrual cycle. It is documented to modify menstrual flow, cause abortion in cattle, and induce uterine contraction in full-term women.
DRUG INTERACTIONS
Feverfew may interact with thrombolytics, anticoagulants, and platelet aggregation.
ALLERGIC REACTIONS
People can have allergic reactions to feverfew.
Those who are allergic to other members of the daisy family (which includes ragweed, and chrysanthemums) are more likely to be allergic to feverfew.