Large number of medicinal plants are found in the Himalayan region. Such plants are used for medicinal purpose since ancient times. Abies Webbiana (synonym Abies spectabilis (D. Don) Spach. and Pinus webbiana Wall.) is known as Talis or Talispatra in Ayurveda, Tamil, Telugu and Indian Silver Fir in English.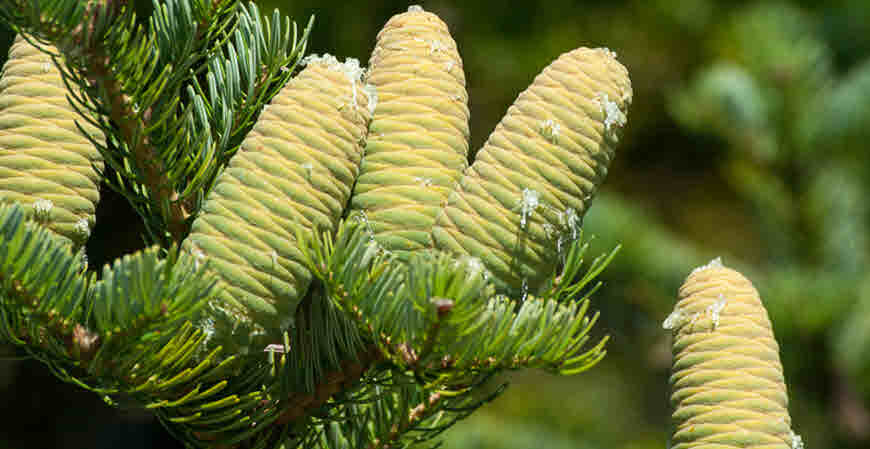 Abies webbiana belongs to the pine family. It is found in the Himalayas from Kashmir to Assam at altitudes of 1600 -4500 m. Like other pine trees, it is a large, tall, evergreen lofty fir tree. The leaf of Pinus webbiana is single, spirally, arranged all-round the branchlets, flat, narrow, linear, one to three inches long, with the narrow short terete petiole. The upper part of the leaf is very shining and of dark green in color. There is a midrib in the upper surface and traject downs the middle with two faint lines present on either side of the midrib beneath.
Many phytochemicals are present in the leaf of Abies webbiana makes it effective against various disease. Abiestin, bioflavonoid, beta-sitosterol, n-triacontanol and two glycosides (etoposide and methylbetuloside), essential oils (contains alpha-pinene, beta-pinene, limonene, carvone, monoterpenes, camphene, and bornyl acetate) are present in the leaves.
The leaves can be used fresh, dried, as tincture, infusion or confection. Due to hot potency, they are used for reducing phlegm and hin infections of the upper and lower respiratory tract.
The leaf powder is used along with other medicinal herbs to treat wasa (chronic obstructive pulmonary diseases), gulma (tumor), hikka (hiccups), Kasa (cough), krimi
(helminthiasis), chhardi (vomiting), mukharoga (mouth disorders) ama dosha and amoebiasis due to antibacterial, antifungal, antitumor, antispasmodic, antitussive, anti-inflammatory, febrifuge, antifertility, central nervous system depressant, mast cell stabilizing and anxiolytic properties.
The powdered leaves are given with the juice of Justicia Adhatoda (vasaka) and honey in cough, bronchial asthma, hoarseness of voice and intrinsic hemorrhage. Talisadya Churna is prepared with talisapatra, black pepper, long pepper, ginger, bamboo-manna, cardamoms, cinnamon, and sugar, and is used in the cough, asthma, and hemoptysis.
The decoctions of the leaves are useful orally in cases of cough, phthisis, asthma, chronic bronchitis and catarrh of the bladder and other pulmonary infections.
The juice of fresh leaves is given to infants suffering from chest infections and fever. The juice of fresh leaves is given as a tonic to the mother after childbirth. The resin, mixed with rose oil, is applied externally in neuralgia.
Vernacular names
Latin name: Abies webbiana
Ayurveda: Patradhyam, Patradhya, Talisa, Talisapatra, Talisha, Dhatriparni, Dhatripatra तालीसपत्र, तालीस, धात्रीपत्र
Unani: Talisapattar
Siddha: Talispatri
Assamese: Talish
Bengali: Talish Pala, Taleesh Patra
English: Himalayan Siver, Indian Silver Fir, The West-Himalayan High-Level Fir, The East-Himalayan Fir
Gujrati: Talish Patra
Hindi: Talish Patra तालीसपतर
Kannada: Tales Patra, Talisapathra, Shukodara
Malayalam: Talisapatra, Taleesapatri
Marathi: Laghu Taleespatra
Oriya: Talis
Tamil: Talispatra, Taleesapatri
Telugu: Taleesapatri
Urdu: Zarnab
Folk: Badar, Chilrow, Morinda, Raisalla, Talispatra
Bhutia: Dunshing
Nepali: Gobray salla
PARTS USED
Leaves (needles)
PREPARATION
AYURVEDIC PROPERTIES OF ABIES WEBBIANA
Rasa (taste on the tongue): Madhura (Sweet), Katu (Pungent), Tikta (Bitter)
Guna (Pharmacological Action): Laghu (Light), Tikshna (Sharp)
Virya: Ushna (Heating)
Vipaka (transformed state after digestion): Katu (Pungent)
Action:
Dipana
Hridya
Vatakaphapham,
Shleshmapittajit
Therapeutic Uses of Abies Webbiana
Swasa (chronic obstructive pulmonary diseases)
kasa (cough)
gulma (tumor)
Agnimandya (hypochlorhydria)
Amadosha (amoebiasis)
hikka (hiccup)
Chhardi (vomiting)
Krimi (helminthiasis)
Mukharoga (mouth disorders)
Talispatra Powder is given in case of:
Asthma
Bronchitis
Cough
Fever
Gas
Headache
Hemoptysis
Hoarseness
Neuralgia
Phthisis
Splenosis
How to take Talispatra Powder
The recommended dose of leaf powder is 2-3 gm for the treatment of diseases.
Low appetite
The leaf powder is taken in a dose of 2-3 grams to improve appetite.
Cough, hoarseness of voice, fever, congestion
2-3 grams of leaf powder is mixed with an equal amount of Mishri / Rock candy. Mishri consists of big white, sweet lumps of crystals. It has demulcent, and cooling properties.
Fever, Headache
The leaf powder is taken in a dose of 2-3 grams
The leaves are applied topically.
EFFECTS ON DOSHAS
It helps to balances vata and kapha
AYURVEDIC MEDICINES CONTAINING TALISPATRA
Drakshadi Churna
Talisadi Churna
Bhaskara Lavana
Talispatra churna
Pranada Gutika
Jatiphaladi Churna
Puga Khanda
Talisadi Modak
SIDE EFFECTS OF ABIES WEBBIANA
 It is hot in potency. Its excessive use can cause mouth ulcers, heartburn, stomach irritation, and vertigo.
Avoid in pregnancy and breastfeeding due to hot potency.
It has an antifertility effect.
vomiting, faintness, convulsions, and many other side effects are seen in case of overdose.