Rhodiola Rosea is also known as Golden root, Arctic Rose or Arctic root. It is found in high altitudes in mountainous regions throughout Europe, and Asia. Rhodiola thrives close to the Arctic Circle in the dry mountainous areas of Scandinavia, Siberia, Northern China, and Canada. It grows in snowy mountains, and smells like roses.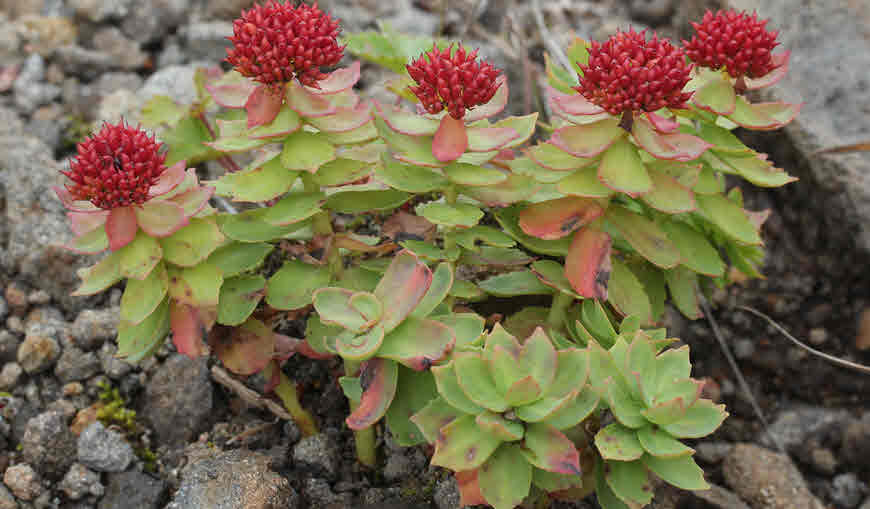 Rhodiola rosea is used as a medicinal herb. It treats debility, improves performance, stimulates the nervous system, and decreases depression. It improves physical, and mental health. Rhodiola rosea is used by Russian athletes for strength, and to reduce stress. It also aids sleep.
OTHER NAMES
Arctic Root, Golden Root, Hongjingtian, King's Crown, Lignum Rhodium, Rose Root, Rosenroot, Orpin Rose, Russian Rhodiola, Siberian Golden Root
RHODIOLA ROSEA PLANT
Rhodiola rosea is a perennial succulent plant. It grows in meadows, grassland, coastal cliffs, on mountain rocks, and screes of Iceland, Scandinavia, Ireland, the United Kingdom, central Europe, Russia, and the Balkan Peninsula. It has a thick almost tuberous rootstock.
PLANT PART USED
Root
ACTIVE CONSTITUENTS
Antioxidant compounds
P-tyrosol (stimulating, and adaptogenic), Organic acids (gallic acid, caffeic acid, chlorogenic acid).
Flavonoids
Catechins, Proanthocyanidin, Tricin, Acetylrodalgin.
Phenylpropaniods
Include rasavin rosarin, rosin
Rosiridin 
Salidroside, Rhodioniside; Rodiolin (rosarin, rosin)
Triterpenes
Daucosterol, Beta-sitosterol.
Phenolic acids
Chlorogenic, Hydroxycinnamic, Gallic acids
BIOMEDICAL ACTION
Adaptogenic: Stabilization of physiological processes, and promotion of homeostasis.
Anti-hyperglycemic: Counteracting high levels of glucose in the blood.
Antioxidant: Neutralize the oxidant effect of free radicals, and other substances.
Antitumor: Inhibiting the growth of a tumor or tumors.
Cardioprotective: Prevent damage to the heart.
female, and male reproductive tonic
Hepatoprotective: Prevent damage to the liver.
Psychostimulant: Produces a temporary increase in psychomotor activity or a temporary improvement in physical functions or mental processes or both.
Health Benefits of Rhodiola Rosea
The roots of Rhodiola Rosea plant are used in the form of tablets, and liquid extracts. It is a popular herb in the traditional medicine of Eastern Europe, Asia, and Scandinavia. It has adaptogen qualities, stimulate the immune system, and enhance concentration, and improve memory. It stimulates the nervous system, enhances physical, and mental performance, and improves resistance to high-altitude sickness.
Rhodiola is an adaptogen, and it increases resistance to a variety of chemical, biological, and physical stressors. It is antidepressant, anticancer, and cardioprotective. Rhodiola has a reputation for improving depression, enhancing work performance, eliminating fatigue, and treating symptoms of debility following intense physical, and psychological stress.
Rhodiola has Antioxidant effect
Rhodiola extract reduces oxidative stress. It decreases lipid peroxidation after 7-day treatment.
Rhodiola Improves Brain Functions
Rhodiola Rosea stimulates the neurotransmitters (epinephrine, dopamine, serotonin etc) in the central nervous system. It also enhances the effects of these neurotransmitters on the brain by increasing the permeability of the blood-brain barrier to precursors of DA, and 5-HT. It activates the cerebral cortex, and the limbic system.
These effects result in improves the cognitive functions of the cerebral cortex. This improves attention, memory, and learning functions of the prefrontal, and frontal cortex.
Rhodiola Rosea Gives Relief in Stress
Rhodiola Rosea is an Adaptogenic (modulates stress response). It reduces stress. Studies have shown it can increase brain serotonin by up to 30%.
Recent research has shown that it increases the body's resistance to stress by regulating hormonal responses. It has a protective effect on neurotransmitters such as serotonin, and dopamine. Low serotonin levels have been linked to depression.
Rhodiola in Depression
Rhodiola has antidepressant activity according to, and improves mood, reduces irritability, insomnia, and emotional instability.
Rhodiola can be used in the treatment of stress-related conditions, in particular depression, mental and/or physical, and fatigue, and also generalized anxiety disorder. It may also be of benefit in depression.
Rhodiola Rosea Improves physical performance
Rhodiola Rosea has an ergogenic effect during exercise. Rhodiola enhances physical performance, possibly
by improving adenosine triphosphate (ATP) turnover.
Rhodiola gives relief in Nicotine withdrawal
Rhodiola gives relief in both effective, and somatic signs which are caused by nicotine withdrawal in a dose-dependent manner.
Rhodiola Rosea Indications
Rhodiola Rosea is useful in treatments for stress, some heart disorders, and high cholesterol levels.
Altitude sickness
Cachexia
Cardiovascular tonic
Chronic fatigue syndrome
Chronic immune deficiency
Convalescence
Debility
Depression
During chemotherapy or radiotherapy for cancer
Emaciation
Exhaustion
Fatigue
Fertility
Fibromyalgia
Headache
Impotence
Improve concentration & memory
Improves mood
Improves sleep
Infections (cold/Flu)
Jetlag
Lack of Concentration
Longevity
May assist in high altitude sickness
May assist sexual function in men
Memory Work productivity
Mental, and physical exhaustion
Nervous disorders
Physical endurance
Physical stress
Post viral syndrome
Sleeplessness
Stress
To improve mental, physical, and work performance
Tonic for elderly
Recommended Dose of Rhodiola Rosea
Rhodiola appears to have very low occurrences of side effects, and clinical evidence suggests it has low toxicity.
Dried Extract
The recommended dose of Rhodiola Rosea is 200 mg of dried roots, and rhizomes extract (equivalent to 300-1000mg of Rhodiola rosea roots, and rhizomes).
Adults, and the elderly should take 2 tablets daily.  Take 1 tablet before breakfast, and 1 before lunch.
The tablets should be taken with a glass of water, preferably 30 minutes before food intake.
Liquid Extract
The recommended dose of Rhodiola Rosea liquid extract (1:1 Liquid Extract) is given below:
5.5-11.5mL/daily
40-80mL/weekly
How long to take Rhodiola Rosea?
Rhodiola Rosea must not be taken for more than 2 months.
If the symptoms worsen or persist for more than 2 weeks a doctor or a qualified healthcare practitioner should be consulted.
Contra-Indications
While the administration of Rhodiola may be beneficial in monopolar depression, use is not
recommended for bipolar states.
This product should not be used:
In patients under 18 years old.
Women who are pregnant or breastfeeding.
In cases of known hypersensitivity to Rhodiola rosea or one of the ingredients.
Concurrent use with stimulants such as caffeine, all strong adaptogenic, and tonic herbs
Usage Warnings
Rhodiola is safe, and well tolerated, but it has the potential.
Patients suffering from depression should seek medical advice for appropriate treatment.
In depressed patients with hysteric, and phobic symptoms, it may increase symptoms.
It increases energy, and has the potential to induce mania in bipolar individuals.
It is not recommended for patients with impaired hepatic, and renal function as data are not sufficient.
SIDE EFFECTS
This product may have the following side effects:
Hypersensitivity
Hypoglycemia
It can cause insomnia, and irritability in some sensitive individuals in the first few weeks of ingestion, therefore best taken earlier in the day.
ADVERSE REACTIONS
Serious adverse reactions have not been reported, and side effects tend to be uncommon, and mild, and can include allergy, insomnia, irritability, fatigue, and unpleasant sensations at high doses.
Increase in irritability, and insomnia has been reported within in some individuals taking high doses (1500 mg–2000 mg, standardized to 2% rosavin).
Drug Interactions
Rhodiola may act in the body like adrenergic-blocking agents, and antiarrhythmic medication which
may alter the effects of these medications, and possibly the dose needed for treatment. Best avoid concurrent use.
Pregnancy, and Lactation
No adverse effects are expected. But as no studies are available, avoid its use.