Gymnema Sylvestre is also known as Gymnema in English, and Gudmar /  Gurmar in Hindi. It is called Gudmar because the leaf demonstrates the ability to suppress sweet taste recognition on the tongue. It is a famous Ayurvedic herb for type 1& 2 diabetes.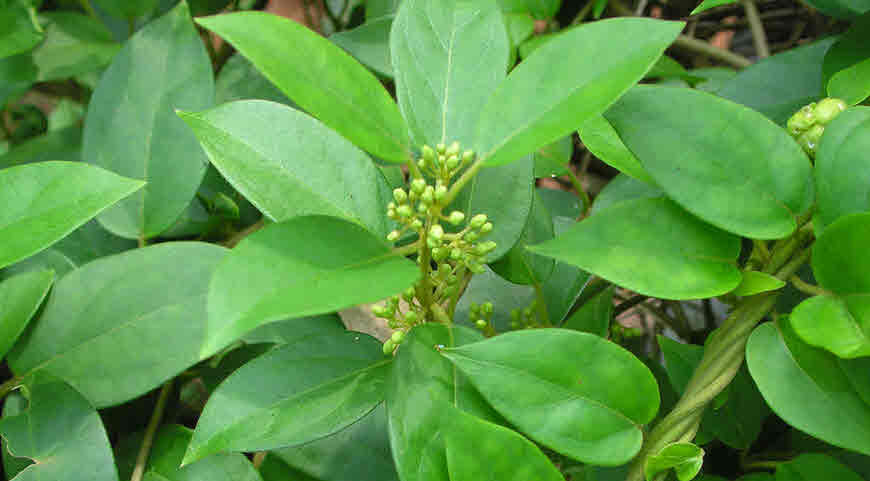 Also Read: Medicinal Plant Gudmar(Gymnema) Details
Gymnema controls the raised blood sugar levels in diabetic person. It is often prescribed in conjunction with standard treatments. The study confirms its blood glucose lowering activity by pancreatic function. A typical dose range is 400 to 600 mg per day of an extract standardized to contain 24% gymnemic acids.
BOTANICAL NAME/FAMILY
Gymnema Sylvestre (family Asclepiadaceae)
CHIEF INDICATIONS OF GYMNEMA
As a digestive stimulant, laxative, and diuretic
High lipid level
Hypercholesterolaemia
Hypertriglyceridaemia
Insecticide against mosquitos
Snakebite
Sweet-taste suppression
Type 1, and type 2 diabetes
Weight loss
DOSAGE RANGE
Liquid extract (1:1): 25–75 mL/week or 3.6– 11.0 mL/day.
Dried leaf infusion: 6–60 g/day
SIDE EFFECTS OF GYMNEMA
Gymnema is a traditional Ayurvedic medicine used in India for over 2000 years. It is generally safe, and devoid of side effects at indicated levels.
No clinically significant side effects have been reported in clinical trials lasting up to 3 years.
Gastric irritation
Since it contains saponins, this herb may be a gastrointestinal irritant.
At higher doses, gastric irritation can occur because of the saponin content.  In such case decrease the dose, and take after eating something.
Reduced Sweet taste of foods
Gymnema liquid extracts suppress the ability to taste sweet on the tongue. It affects the sweet-taste suppression of all foods, not just sugars.
SIGNIFICANT DRUG INTERACTIONS OF GYMNEMA
Antidiabetic drugs, and Insulin
Gymnema is hypoglycemic. It lowers blood sugar lever AND may enhance the blood glucose-lowering effects of insulin, and hypoglycaemic agents. Such drug interaction is beneficial. But caution is needed to avoid excess lowering of sugar.
Particular care should be exercised where the patient is taking insulin or oral hypoglycemic drugs.
It should be used for diabetes under the purview of a practitioner. It should not be used in place of insulin.
CONTRAINDICATIONS AND PRECAUTIONS
Monitor Blood glucose levels closely when used in conjunction with insulin, and hypoglycaemic agents.
Not to be used by patients with hypoglycemia.
Pregnancy, and breastfeeding
There is insufficient reliable information available about the safety of Gymnema in pregnancy.
ADVERSE REACTIONS
No clinically significant REACTIONS have been reported in clinical trials.
Dangers of Gymnema Sylvestre
Gymnema Sylvestre is a SAFE herb when taken in the recommended dosage. It has no serious side effects. There is no danger in taking Gymnema extract or leaf for diabetes, metabolic disorder, obesity, and hypercholesterolemia, and hypertriglyceridemia, and other diseases.