Gymnema Sylvestre or Gudmar is a large woody climbing plant that is extensively used in Ayurveda for the treatment of diabetes for many centuries. This herb is found distributed throughout the India, in dry forests up to 600 m height and especially in tropical forest of Central and Southern India. It is also found in Konkan, Western Ghats, Deccan extending to the parts of western and northern India.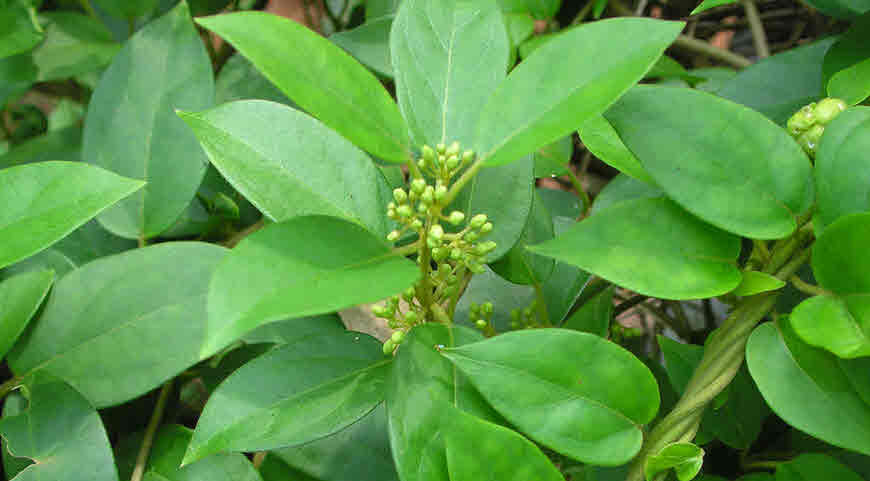 Gymnema Sylvestre or Gurmar is also used in Unani and Homeopathic system of medicine for the treatment of diabetes. It is also used in the treatment of many other diseases such as urinary complaints, obesity as well as alter lipid and glucose metabolism, cough, difficult breathing, ulcers pain in eye, snakebite, stomach ache, etc.
For the medicinal purpose mainly the leaf of Gudmar plant is used. The chewing of fresh leaves have the remarkable property of paralysing taste buds temporarily for sweet taste for some time. This effect is probably due to direct interaction of the active ingredients present in leaves (some oleanane type triterpene glycosides, called saponins) with the taste buds.
This medicinal herb is known as Madhunashini (Sanskrit) and Gurmar or Gudmar (Hindi) the literal meaning of all these word is one that destroys sugar. This herb is one of the ingredients in many Ayurvedic formulations such as Ayaskrti, Varunadi kasaya, Varunadighritam, Mahakalyanakaghrtam, etc.
Vernacular names of Gudmar
English: Periploca of the woods

Hindi: Gudmar, Gurmar

Sanskrit: Meshashringi, 

madhunashini

Marathi: Kavali, kalikardori

Gujrathi: Dhuleti, mardashingi

Tamil: Shirukurum Kaay, Shakkaraikkolli

Telugu: Podapatri

Kannada: Sannagerasehambu, Kadhasige

Siddha: Kannu Minnayamkodi, Passaam, Shirukurinja

Unani: Gurmaar Buuti
Gudmar Scientific Classification
The botanical name of Gurmar is Gymnema Sylvestre and it belongs to the family Asclepiadaceae (Milk weed family). Its taxonomical classification is as given below:-
Kingdom Plantae
Subkingdom Tracheobionta
Superdivision Spermatophyta
Division Magnoliophyta
Class Magnoliopsida
Subclass Asteridae
Order Gentianales
Family Asclepiadaceae
Genus Gymnema
Species sylvestre
Gudmar Plant description
Woody, large climber running over tops of high trees;young branches slender and pubescent;leaves opposite, simple, petioles 0.6-1.2 cm, stout or slender, lamina 2.5-6.25 cm in length, elliptic or ovate, thinly coriaceous, upper surface rarely pubescent;cymes subglobose, ± 1.25 cm in diameter;flowers yellow, ±0.2 cm in diameter;follicles slender, ±5-7.5 by 0.8 cm;seeds pale brown, flat, long with thin broad marginal wing.
Distributed in: Asia, tropical Africa and Australia.
Chemical contents of Leaf:
Triterpenoid saponins of gymnemic acid A, B, C and D with sugar residues such as glucuronic acid, galacturonic acid, ferulic and angelic acids attached as carboxylic acids. Several isopropylene derivatives of gymnemagenin, a hexahydroterpene, gymnemagenin, gymnemic acid. The leaves also contain betaine, choline, gymnamine alkaloids, inositol, d-quercitol. Hydrocarbons such as nonacosane, hentriacontane, tritriacontane, pentatriacontane, phytin, resin, tartaric acid, form acid, butyric acid, amino acids such as leucine, isoleucine, valine, alanine, ?-butyric acid.
Important medicinal properties: Anti-diabetic, Diuretic, Anti-obesity, Laxative, Stimulant, Anti-microbial, Anti-hypercholesterolemic, Liver-protective, Sweet-suppressing activity, Aphrodisiac
Gudmar Scientific Studies
Nowadays many scientific studies are being done on medicinal herbs. Surprisingly, such studies supports and confirms the traditional therapeutic uses. The leaves of Gymnema Sylvestre or Gurmar is used in Ayurveda, Unani, Siddha and Homeopathy for the treatment of diabetes. An animal study, (Paliwal et al) confirms the leaf powder has positive and encouraging effects on blood glucose levels. The study concluded that Gurmar powder is effective in lowering the fasting as well as postprandial blood glucose levels.
In one study, the extract of dried leaves, given to diabetic rats at a dose of 20 mg/day per rat for 2 months. It showed lowering of increased sugar level due to increased serum insulin levels and also control of nephropathy, retinopathy and angiopathy.
Studies also prove the leaves of Gymnema Sylvestre are effective in reducing elevated serum triglyceride and total cholesterol.
The anti-obesity activity was also confirmed in study. Aqueous extract administered to Wistar rats exhibited suppressed increases in the body weight, organs weight, and plasma lipids.
The anti-diabetic effect of leaves is attributed to increase in insulin secretion. And the increased insulin level is due appears to be due to repair or regeneration
of the endocrine pancreas (as manifested by the doubling of islet number and beta cell number in the pancreatic tissue of diabetic rats that were orally administered with G. sylvestre extracts). Some other proposed mechanisms for blood glucose lowering actions include increase in glucose uptake and utilization, stimulation of beta cell function, stimulation of enzymes, etc.
Medicinal Uses Gurmar/Dhuleti/G. sylvestre
Gurmar or G. sylvestre is extensively used in the making of Ayurvedic medicine for the treatment of diabetes. There are about fifty five patents of Gymnema Sylvestre mainly on diabetes.
As a folk medicine, the leaves of the plant are used fresh or in dried form. The dried powder is given in a dose of 3-5 grams for the treatment of diabetes and other ailments. The leaf powder can be mixed with cow's milk and taken orally to treat diabetes. One or two fresh leaves of the plant are chewed daily to control diabetes and keep the sugar level optimum.
The leaves of the plant are used as tea to treat obesity, gastric acid, stomach aches and UTI (Urinary tract infections). The tea is prepared by pouring boiling water (1 cup) on Gurmar leaves and steeping for 10-15 minutes in covered pot.
In cornea opacity and other eye diseases the extract of leaves is applied topically.
The root powder is taken orally and also applied on the bitten spot to treat snake bite. The root paste is applied directly on wounds of snake bites.
The Dosage of various parts of Gurmar:
Root, leaf:3-5 g powder;50-100 ml decoction;
In capsule form, 100mg, 3-4 times/day.
Best results are seen only after 6 to 12 months of continuous use.