Amla or Indian gooseberry is the fruit of the tree Emblica officinalis. These small, sour green fruits are not only eaten fresh but also in form of chutney, murabba, candies, and powder. It is a boon for health and possesses immunity-boosting, antiaging, antimicrobial, and anti-inflammatory activities. Amla is useful against several diseases and does not produce any side effects. it is a rich source of ascorbic acid (juice has 20 times ascorbic acid more than orange juice).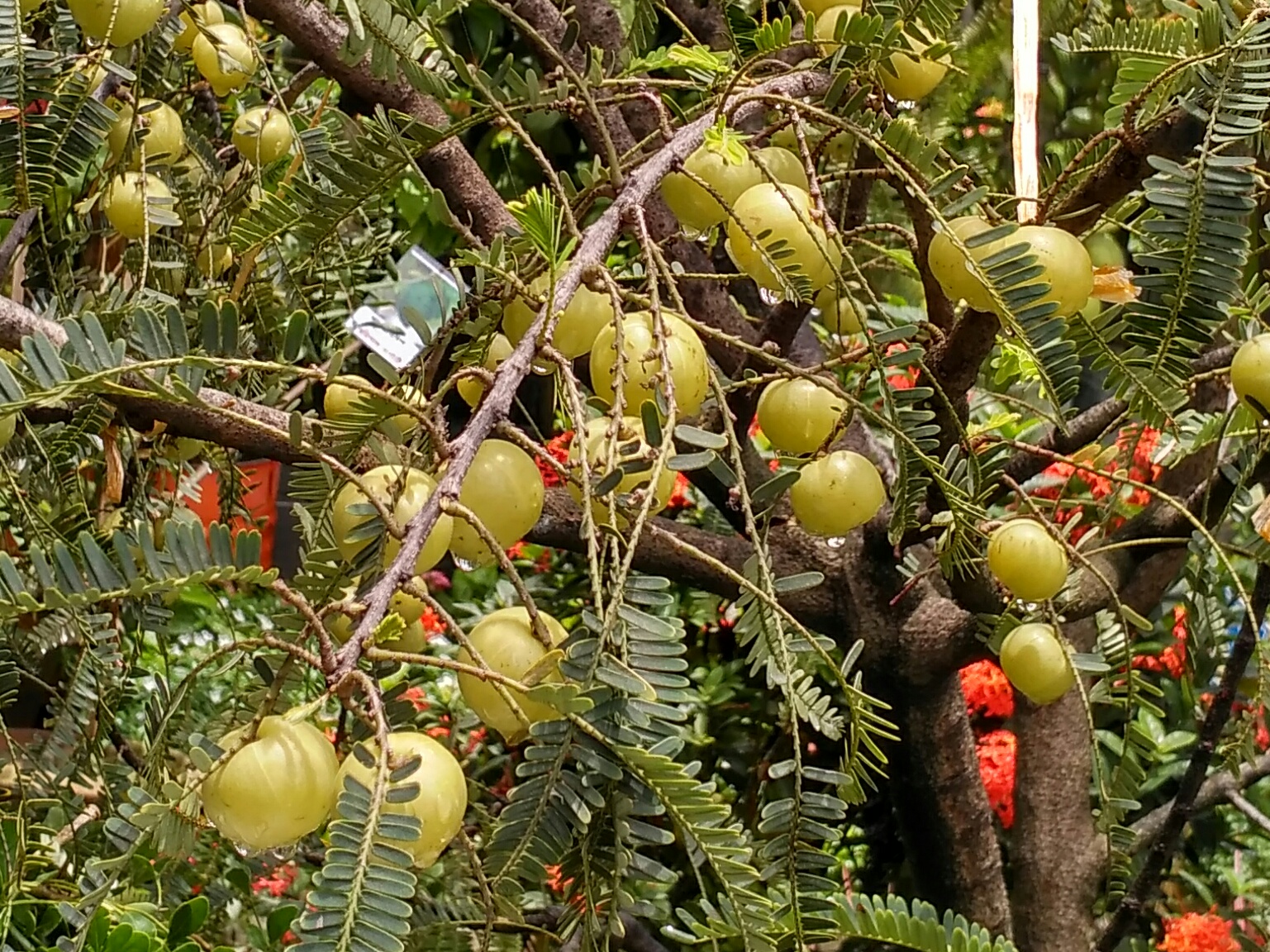 Emblica fruit is one of three "myrobalans", a term deriving from the Greek for acorn, which is a well-known astringent used in tanning. Emblic myrobalans and chebulic myrobalans (Terminalia chebula) have a high content of tennis. Chebulic myrobalans are used as tanning leather for a long time. A third variety known as beleric myrobalans, which is a close relative of the chebulic myrobalans (Terminalia belerica) is also used as a tanning agent.
Triphala consists of Emblic myrobalans. Chebulic myrobalans. And Beleric myrobalans. Triphala is very useful in the treatment of intestinal disorders like inflammation, infection, diarrhea, and constipation.
Amla Plant Description
It is a medium-sized tree. Its leaves alternate, bifarious, pinnate, and is flower-bearing. It has numerous leaflets. Flowers in the male are very numerous, but in females, flowers are few. Flowering in plant starts from August to September, and fruits are from October to February. It grows to the height of 8-18 meters. It has a crooked trunk and spreading branches. It has yellow-greenish fruits. The fruit is spherical pale yellow with six vertical furrows. The mature fruits are hard and do not fall for the gentle touch. The average weight of the fruit is 60 -70 g. It has gray bark and reddish wood. Its leaves are feathery, linear-oblong in shape, and smell like lemon. Its wood is hard in texture. It wraps and splits when exposed to the Sun or in excessive heat.
Its green fruit is very acidic. The dried fruit is sour and astringent. Its flowers have a cooling effect. Its bark is astringent.
In Hindu mythology, the tree is worshipped as the Earth Mother as its fruit is considered to be so nourishing as to be the nurse of mankind.
Amalaki:  Means Sustainer or the fruit where the Goddess of Prosperity Resides.
Tree considered sacred by Hindus as God Vishnu is believed to dwell it. The tree is worshipped on Amalaki Ekadashi.
In other Hindu beliefs, amla is said to have originated from the drops of Amrit which spilled on earth accidentally, because of the fight of gods and demons after ksheera Sagar Manthan.
Habitat:  It is found all over tropical and sub: tropical India, Burma, Madhya Pradesh. Its cultivation is common in India mainly in Uttar Pradesh, Tamil Nadu, Karnataka, Rajasthan, and Gujarat.
Amla is a rich source of Vitamin C. It is seen that 100 gm of fresh fruit provides 470-680 mg of vitamin C. The vitamin value of Amla increased further when the juice was extracted from the fruit. The dehydrated berry provided 2428-3470 mg of Vitamin C per 100gm.
It contains calcium, phosphorous, iron, carotene, thiamine, riboflavin, and niacin.
Climate: 
It is grown in a subtropical climate. It is a hardy plant, it grows in semi-arid conditions. It grows from seed propagation.
Constituents
Fruits, bark, and the leaves of this tree are rich in tannins.
Its roots contain ellagic acid and lupeol and bark contains leucodelphinidin.
Its seeds contain- fixed oil (16%). It is brownish yellow in color. It contains fatty acid- linoleic (8.8%), linoleic (44.0%), oleic (28.4%), stearic
(2.15%), palmitic (3.0%) and mystics (1.0%).
It is used as a cooling and refrigerant sherbet. It acts astringent in diarrhea, spitting blood (hemoptysis), and vomiting blood (haematemesis).
The seeds of Amla contains:
Fixed oil
Phosphatides
Essential oils.
Common Names of Amla
Common names: Aonla, Indian gooseberry, Malacca tree
Sanskrit: Adiphala, Akara, Amalaki, Amalakam, Amamalakam, Amlika, Amraphala, Amraphalam, Amrita, Amritaphala, Bahuphali, Dhatri, Dhatrika, Dhatriphala, Jatiphala, Karshaphala,Kayastha, Pancharasa, Rochani, Shanta, Shiva, Shriphala, triphalam,Shriphali, Tishya, Tishyaphala, Triphala, Vayastha, Vrishya, Vrittaphala Amlaj, Amluki, Amia,Amlaki, Amla, Arnloki
Hindi: Amalaki, Amla, Amlika, Amlaki, Anola, Anuli, Anvula, Anvurah, Anwera, Aonla, Aoula, Aungra, Aunra, Daula, Arooli, Aoongra
English: Emblic, Myrobalan Tree, Indian gooseberry
Gujrati-Ambala; Amla
Kannada: Bettada nellikai, Nelli
Unani: Amia
Malayalam: Nellee, Nellikai, Arnlakam
Tamil-Ambli, Ambul, Ambal, Amla Amalagam Andakoram, Indul, Kattunelli, Nelli, Perunelli, Sirottam, Tattiri, Toppunelli
Telugu: Nelle-kai, Toppi; Assereki, Nelli, Usrikayi, Amalakamu; Usiri, Usereki
Scientific Classification
Kingdom:  Plantae
Division:  Angiospermae
Class:  Dicotyledonae
Order:  Geraniales
Family: Euphorbiaceae
Genus:  Emblica
Species:  officinalis Geartn
Synonyms: Phyllanthus Emblica
Homeopathic Remedy Amalaki (Emblica officinalis) Tinctures
Amalaki (Emblica officinalis) Tinctures are available from various pharmacies such as SBL.
The remedy contains Amalaki, Structured Water, and Alcohol.
You may take few drops of this mother tincture to get the health benefits of Amla. It will boost immunity and prevent recurrent infection. It is good for the eyes and hair.
Dosage
 Amalaki (Emblica officinalis) Mother tincture is taken in a dose of 6-12 drops in juice or water, under the tongue, or as desired.
It may be taken 3 times daily.
Shake well before use. Store in a cool, dark place. Keep out of reach of children.
Amla Health Benefits
Pickles are made from green fruits. Pickles help to stimulate the appetite.
It has antiviral properties, antibacterial, anti-fungal agents.
It has anti-oxidant properties. It helps to eliminate free radicals. It contains superoxide dismutase which helps in the destruction of free radicals.
It acts as an aphrodisiac. It helps to regain energy.
Its decoction is applied on boils with cow ghee to promote pus formation.
It reduces the redness of the skin which is caused by U-V radiations.
It acts as a laxative in constipation. The fresh ripe fruits are used as laxatives. One or two fruits are sufficient to relieve constipation.
The leaves of Amla are squeezed and the juice so extracted is put in the ear to get relief from toothache.
Its fruits are used in the treatment of diabetes. Decoctions of the leaves and seeds are used in the treatment of diabetes mellitus.
It is helpful for the treatment of diarrhea. Its infusion of the leaves with fenugreek seed is given for chronic diarrhea.
Its fresh fruit is a diuretic. It cures the retention of urine. A decoction of the fruit with stems of Tinospora cordifolia is a well-known remedy for various urinary diseases.
It is a very good remedy to treat fever. The seeds are used in bilious fever associated with nausea. It is a very good remedy for fever with loss of taste.
Its juice combined with honey and turmeric is used for gonorrhea.
The oil obtained from the berries is used to strengthen and promote the growth of hair. The dried fruits have a good effect on hair. It is a very good remedy for maintaining pigmentation. Its fruits are cut into pieces is dried preferably in shade and then boiled in coconut oil is very good for preventing hair greying.
A paste of the fruit is very useful for the treatment of headaches. Amla is when mixed with buttermilk acts cooling the head.
Its shoots mixed in buttermilk cure indigestion.
It has an anti-inflammatory effect.
Its decoction of the leaves is used anti-bacterial mouthwash. The bark of the root mixed with honey is applied to the inflammation of the mouth.
Amla powder mixed with red sandalwood and honey is used to relieve nausea and vomiting.
Its seed is fried in ghee and ground with liquid from boiled rice is when applied to the forehead to stop bleeding from the nose.
Its oil is used in perfumery.
Its seed is burnt, powdered, and mixed in oil as a useful application for scabies or excessive itching.
Its fresh fruit is used to cure inflammation of the lungs. Its juice is used to cure cough, hiccough, asthma, difficulty in breathing.
As it contains a rich amount of Vitamin C it is very useful in the treatment of scurvy.
The milky juice of the leaves is used in the treatment of sores.
It is used as a skin-lightening agent in Asia, Far East, and the Middle east. In the European market, it is used for age spots and freckles.
Infusion of the leaves is applied to sore eyes. It is used as an eyewash, when dried fruit is immersed in water in a new earthen vessel a whole night yields a decoction which is used as a collyrium.
A mixture of fruit juice and sugar is used for the relief of burning in the vagina.
In certain districts (Travancore) the natives put the young branches into the wells to impart a pleasant flavor to the water, especially if it be impure from the accumulation of vegetable matter or other causes.