Pomegranate known as Anar in Hindi, is a very tasty, juicy, nutritious fruit. Pomegranate not only offers numerous health benefits but also used as natural remedy to cure variety of diseases such as sore throats, coughs, urinary infections, digestive disorders, skin disorders, arthritis, and to expel tapeworms.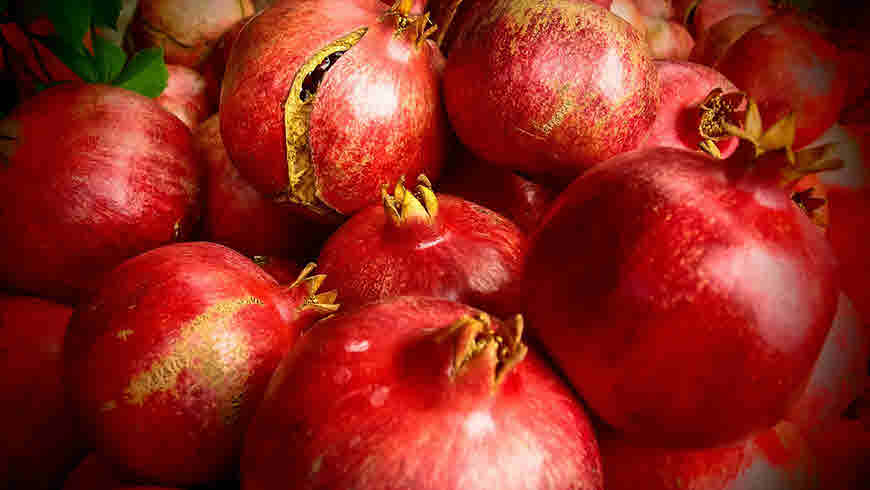 Pomegranate is tonic for the heart, throat, eyes and blood. The fruit intake improves hemoglobin level and cures anemia. It is a natural blood thinner too. Pomegranate is indicated in chronic diarrhea, dysentery, sprue, other chronic bowel complaints, tapeworms, chronic feverishness, consumption, splenic enlargement, thirst in the fever, piles, sore throat, vaginal and uterine diseases (Menstrual disorders, Menorrhagia, Dysmenorrhea, Amenorrhea) and ulcers.
Intake of pomegranate in any bleeding disorder is helpful as it improves hemoglobin level and discourages the blood loss due to its astringent action. Astringent action is also beneficial in colitis, ulcers diarrhea, indigestion and biliousness. The rind of the fruit is used as an astringent in diarrhea. The leaves, flowers, roots all are used for medicinal purpose. The juice of flower is used to treat nose bleeds. The fruit pulp and the seed are stomachic. Dried, powdered flower buds are helpful in bronchitis.
General Information
Scientific Classification
The botanical name of Pomegranate is Punica granatum Linn. and it belongs to plant family Punicaceae. Below is given taxonomical classification of the plant.
Kingdom: Plantae – plantes, Planta, Vegetal, plants
Subkingdom: Viridiplantae
Infrakingdom: Streptophyta – land plants
Superdivision: Embryophyta
Division: Tracheophyta – vascular plants, tracheophytes
Subdivision: Spermatophytina – spermatophytes, seed plants, phanérogames
Class: Magnoliopsida
Superorder: Rosanae
Order: Myrtales
Family: Lythraceae – loosestrife
Genus: Punica L. – pomegranate
Species: Punica granatum L. – pomegranate
Part(s) used for medicinal purpose: Leaves, roots, flowers, fruits.
Plant type: Large deciduous shrub or a small tree.
Distribution: found growing wild in hills of Himalayas, between 900 and 1800 m and cultivated in many parts.
Native to: Pomegranate is native to the area between the Himalayas in North India and Iran.
It is widely cultivated throughout India and in the drier parts of South East Asia, the East Indies and Africa.
SYNONYMS
AYURVEDIC: Dadima, Dadimba, Raktapushpa, Dantabija, Raktakusuma, Lohitpushpaka.
UNANI: Anaar, Roomaan, Gulnaar, Gulnaar Farsi.
SIDDHA: Maathulai
SANSKRIT: Dadima, Dantabija, Lohitapushpa
ASSAMESE: Dalim
BENGALI: Dadima, Dalimgach, Dalim
ENGLISH: Pomenagrate
GUJRATI: Dadam, Dadam phala
HINDI: Anar, Anar-ke-per, Anar-dana (seeds)
KANNADA: Dalimba, Dalimbe haonu
MALAYALAM: Mathalam
MARATHI: Dalimba
ORIYA: Dalimba
PUNJABI: Anar
TAMIL: Madulam Pazham
TELUGU: Dadimbakaya, Dadimma
URDU: Anar
Ayurvedic Properties and Action Of Pomegranate
Pomegranate is known as Dadim in Sanskrit. It has been used for medicinal purpose from time immemorial. In Ayurveda, the leaves, roots, flowers and fruits are used to treat bleeding disorders, diarrhea and gynecological disorders due to astringent and Hemostatic properties. The seeds and rind help to kill and expel worms, especially tape worms.
FRESH FRUIT: Pomegranate juice slows down aging, protects heart, promotes cardiovascular health, improves digestive system and acts as aphrodisiac.
Constituents – Anthocyanins, glucose, ascorbic acid, ellagic acid, gallic acid, caffeic acid, catechin, quercetin, rutin and numerous minerals particularly iron, amino acids.
Rasa (taste on the tongue): Kasaya (Astringent), Madhura (Sweet), Amla (Sour)
Guna (Pharmacological Action): Laghu (Light), Snigdha (Unctuous)
Virya: Ushna (Heating)
Vipaka (transformed state after digestion): Madhura (Sweet)
Action: Kapha-har, Pitta-har, vata-har, Tonic, digestive, good for the heart, improves tastes, removes foul smell from the mouth, Shukrala
Indicated in: tastelessness, diarrhea, dysentery, burning sensation, fever, cough, amavata, bleeding disorders, excessive thirst.
Recommended dose:15-30 ml.
FRUIT RIND: Pomegranate fruit rind is astringent and antioxidant in nature. It is used to prepare tooth powders, toothpastes, facial care products and coughing remedies.
Constituents – Tannic acid, Sugar and Gum.
Rasa (taste on the tongue): Kasaya (Astringent), Amla (Sour)
Guna (Pharmacological Action): Laghu (Light), Snigdha (Unctuous)
Virya: Anushna (not very hot)
Vipaka (transformed state after digestion): Katu (Pungent)
Action: Grahi, Vata and Kaphahara, wound healing.
Indicated in: diarrhea, dysentery, burning sensation, fever, cough, bleeding disorders, vitiation of blood, foul breath, and hyperacidity.
Recommended dose:3-6 grams.
LEAVES: Pomegranate leaves are useful in treating digestive problems, skin problems, low appetite, insomnia and certain other medical conditions.
Constituents – Tannins (punicalin and punicafolin) and flavone glycosides including luteolin and apigenin.
Rasa (taste on the tongue): Kasaya (Astringent), Tikta (Bitter)
Guna (Pharmacological Action): Laghu (Light)
Virya: Sita (Cooling)
Vipaka (transformed state after digestion): Katu (Pungent)
Action: Dipana (increases digestive function), Kapha-har, improves taste and appetite.
Indicated in: fever, cough, bleeding disorders, loss of taste, diarrhea, dysentery, intestinal parasites, oral disease, and digestive weakness.
Recommended dose: leaves juice:5-10 ml;leaves kalka:5-10 gram.
SEEDS
Constituents: Sugars, Vitamin C, Sitosterol, Ursolic acid, Protein, Fat and Mineral matters, Nicotinic acid, Pectin, Riboflavin, Thiamine, Delphinidin diglycoside, Aspartic, Citric, Ellagic, Gallic and Malic acids, Glutamine, Isoquercetin, Estrone and Punicic acid.
Rasa (taste on the tongue): Madhura (Sweet), Amla (Sour)
Guna (Pharmacological Action): Laghu (Light), Snigdha (Unctuous)
Virya: Ushna (Heating)
Vipaka (transformed state after digestion): Madhura (Sweet)
Action: shukral (increases semen), Grahi (absorbant), Hridya (heart tonic), Medhya (increases intelligence), Pitta-har, vata-har, kapha-har, tonic.
Indicated in: fever, excessive thirst, burning sensation.
Recommended dose:5-10 gram in powder form.
Medicinal properties of Pomegranate fruits
Antioxidant:neutralize the oxidant effect of free radicals and other substances.
Anti-inflammatory: reducing inflammation by acting on body mechanisms.
Anti-carcinogenic: Neutralizes the effects of a cancer-causing substance.
Antiemetic: useful in the treatment of vomiting.
Astringent: Causing contraction or arresting discharges.
Cardiac: related to heart.
Diaphoretic: promote sweating.
Hemostatic: Checking blood flow.
Stomachic: stimulates gastric activity.
Digestive: digestant.
Improves fertility
Cooling/refrigerant and purifying.
Tonic: Restore or improve health or well-being.
Increases red blood cell production
Lowers acidity
Food Value of fruits 100 Grams of edible portion
(Source: USDA National Nutrient data base)
| | | |
| --- | --- | --- |
| Principle | Nutrient Value | Percentage of RDA |
| Energy | 83 Kcal | 4% |
| Carbohydrates | 18.70 g | 14% |
| Protein | 1.67 g | 3% |
| Total Fat | 1.17 g | 6% |
| Cholesterol | 0 mg | 0% |
| Dietary Fiber | 4 g | 11% |
| Vitamins | | |
| Folates | 38 µg | 9.5% |
| Niacin | 0.293 mg | 2% |
| Pantothenic acid | 0.135 mg | 3% |
| Pyridoxine | 0.075 mg | 6% |
| Riboflavin | 0.053 mg | 4% |
| Thiamin | 0.067 mg | 5.5% |
| Vitamin A | 0 IU | 0% |
| Vitamin C | 10.2 mg | 17% |
| Vitamin E | 0.60 mg | 4% |
| Vitamin K | 16.4 µg | 14% |
| Electrolytes | | |
| Sodium | 3 mg | 0% |
| Potassium | 236 mg | 5% |
| Minerals | | |
| Calcium | 10 mg | 1% |
| Copper | 0.158 mg | 18% |
| Iron | 0.30 mg | 4% |
| Magnesium | 12 mg | 3% |
| Manganese | 0.119 mg | 5% |
| Phosphorus | 36 mg | 5% |
| Selenium | 0.5 µg | 1% |
| Zinc | 0.35 mg | 3% |
Health Benefits of Pomegranate Fruits
Pomegranate fruits are useful in anemia, nausea, vomiting, diarrhea, dysentery, dyspepsia and heartburn. Eating sweet fresh pomegranate purifies body and cleanses mouth. Eating one pomegranate daily is adequate. Excess eating can cause constipation. It is safe to take pomegranate fresh fruit or juice during pregnancy. But pregnant women should not take pomegranate extract because it may contain fruit rind which may act as natural stimulant to encourage the uterus to contract and cause early labor.
Cardiovascular benefits
Modern researches done on this juicy fruit shows that regular eating of pomegranate as a part of diet can be helpful in preventing diseases of heart. It reduces plaque in the arteries and bad cholesterol. It has blood thinning properties. It increases blood flow to the heart and reduces blood pressure. Intake of pomegranate juice decreases the risk of heart attack and heart strokes.
Tonic
Pomegranate is tonic for the whole body. It is full of nutrition and vitamins. Chewing pomegranate improves taste and cleanses the colon. It also improves digestion.
Anti-cancer effects
Pomegranate is rich in flavonoids. Flavonoids are antioxidants are found to be effective in counteracting various cancer radials.
Cures Anemia
Regular eating of pomegranate keeps the hemoglobin normal.
Neuro-protective Activity
Pomegranate exhibited significant neuroprotective property in stress-induced neurodegenereation like Alzheimer's disease. It triggers the inhibition of AchE, causes prolong half-life of acetylcholine which known to be useful in treating cognitive decline, improving memory or related CNS activity.
Balances estrogen level
Pomegranate intake is helpful in balancing estrogen level.
Health benefits of drinking Anar Juice
Pomegranate juice shows beneficial effects in diarrhea, dyspepsia, biliousness, inflammations of the stomach, palpitation, excessive thirst and fevers.
Pomegranate juice is very nutritious, tasty and is good for overall health. The health benefits offered by single glass of anar juice are countless. Pomegranate juice slows down aging, protects heart, promotes cardiovascular health, improves digestive system and acts as aphrodisiac. It is super antioxidant which delays aging, acts as natural Viagra has the ability to cure erectile dysfunction.
Nutritious, cooling in nature and Super antioxidant
Good for the heart, digestive system
Anar juice cures anemia, weakness, low appetite
Improves appetite cures digestion impairment
Useful in excessive secretion of bile
Prevents and alleviates nausea and vomiting
Beneficial in excessive thirst and fevers
During pregnancy it cure weakness, palpitation and nausea
Take as an adjuvant in diarrhea, dyspepsia, biliousness, and inflammations of the stomach
Reduces dental plaque
Regular intake of pomegranate juice cures erectile dysfunction
Natural Viagra
Medicinal Uses of Pomegranate
Pomegranate is carminative, antacid, anti-diarrheal, estrogenic, hemostatic, Tonic, nutritive, anti-oxidant, and aphrodisiac. Pomegranate fruit cures excessive acidity/pitta. It gives strength to heart and improves its function. It is beneficial in any type of bleeding disorder.
Atisaar(diarrhea)
For diarrhea, the root-bark or dried fruit rind powder is given in a dose of 3-6 gram with honey daily.
Bleeding piles
Daily eat pomegranate fruit or drink its juice.
Bleeding diarrhea
Take dried fruit rind powder with honey 2-3 grams with honey.
Bleeding disorders
Regularly eat pomegranate.
Gynecological disorders
Prepare decoction of pomegranate leaves and rose flower and drink (15-30ml).
Indigestion, tastelessness
Pomegranate juice added with black salt and roasted jeera/cumin seed powder is indicated. For tastelessness, hold juice in month for some time.
Improving hemoglobin level/iron level, cleaning the colon
Eat pomegranate fruit or drink one cup fresh pomegranate juice squeezed with one lemon juice.
Cough
Take few flower buds of pomegranate tree, 2-3 basil leaves and black pepper and boil in water and drink.
Insomnia
Take 20 grams fresh leaves of pomegranate and boil in 400 ml of water. When water reduces to 100 ml decoction is ready, filter and drink water.
Bronchitis
Take Dried Pomegranate seeds 100 grams, 50 gm each of dry ginger/sonth, black pepper, long pepper/Pippali, dalchini/cinnamon, ela/cardamom, grind to make powder or churna and mix sugar candy. Take this churna with honey 2 times in 2-3 grams quantity.
Vomiting
Give lukewarm juice of Pomegranate.
Jaundice
Take fresh pomegranate leaves and dry in shade and make a powder by grinding. Take 6 grams of powder in the morning with buttermilk and in evening with water.
Pregnancy
Drink juice of fresh pomegranate fruit or eat to improve hemoglobin. This also cures weakness, nausea.
Eczema
Apply fresh juice of leaves at affected area.
It is very important to prepare pomegranate juice hygienically because the risk of contamination is quiet high. Drinking contaminated juice can harm health rather than giving any benefit.
Medicinal use of Pomegranate fruit peel
Pomegranate fruit hull or peel is astringent and antioxidant in nature. It is used to prepare tooth powders, toothpastes, facial care products and coughing remedies.
The rind of fruit is dried to remove moisture and then pulverised to get its powder. This powder is anti-ulcer, anti-diarrheal, haemostatic (stops bleeding), dentifrice (cleans teeth) .
Here are few home remedies using pomegranate hull powder to cure various clinical conditions.
Glowing skin, BlemishesTake powder of dried peel of Pomegranate fruit. Add sandal powder and clove. Mix in water and apply on the face to remove blemishes.
Tooth acheTake peel of Pomegranate fruit. Dry in shade and grind to make powder. In this powder add Sendha namak, mustard oil. Massage teeth and gums.
Tooth powder, PlaqueUse this powder to clean teeth.  As tooth powder it strengthen teeth, gums and fights plaque.
Diarrhoea, dysenteryTake powder of dried peel of Pomegranate fruit. Add dry Bilva fruit powder in equal amount. Take 1 tbsp in glass of water to cure Sangrahni, atisaar and dast.
Sore throatAdd rind powder in lukewarm water and use this to gargle.
The Dosage of Pomegranate fruit peel
Can be taken in a dose of 3-6 grams for treating ailments.
Pomegranate Mouthwash Recipe and Benefits
Pomegranate mouthwash is a herbal preparation from hulls of pomegranate fruit. This preparation is effective remedy for preventing plaque formation, gingivitis and periodontists. Pomegranate fruit has several medicinal uses among those one is it's antibacterial property.Mouthwash or rinses are part of oral hygiene to get rid of bacteria responsible for oral and gum problems, cavities, plaque formation and tooth decay. So you can try this simple recipe to make natural herbal mouthwash in your kitchen.
Benefits of using Pomegranate Mouthwash
Antibacterial, antioxidant, anti-inflammatory and strong astringent
Kills bacteria
Effective in fighting dental plaque and tartar formation
Removes plaque from the teeth
Reduce the clinical signs of chronic periodontitis (inflammation around the tooth)
Prevents gingivitis
How to Prepare Pomegranate Mouthwash
Take clean peel of pomegranate fruit.
Crush it in mortar and pestle.
Add in boiling water (3 cups).
Cook at low flame for 10-40 minutes to extract active ingredients of hull.
Use this mouthwash in lukewarm condition to rinse mouth. If you are using pomegranate mouthwash to cure oral problems then it is recommended to rinse your mouth three times a day and for a month.
Pomegranate tea recipe and health benefits
Pomegranate tea is prepared from buds, flowers and leaves of Punica granatum tree. The leaves have gastroprotective, astringent, anti-diarrheal and antioxidant activities. This herbal tea is good for scavenging free radicals from the body that causes aging and diseases.
Ingredients of Pomegranate tea
Anar Leaves (3 gm), buds (2), flowers (3) of Pomegranate, Basil leaves (5), Black pepper (3), Honey and water
Recipe of Pomegranate tea
Take water (150 ml) in pan. Bring it to boil.
Add all ingredients, except honey in this boiling water.
Cook for a few minutes.
Strain tea and drink hot.
You may add honey as per taste. If you are diabetic then avoid adding honey or sugar.
Health Benefits of drinking Pomegranate tea
Cures cold, cough
Good for the digestive system
Cures stomach disorders, diarrhea
Improves digestion, intestinal movement
Reduces gastric ulcer risk
Cures sleeplessness (Insomnia)
Strong antioxidant
Caffeine free herbal tea
Very rarely it can cause some allergy in some people, so be careful.
References
Das AK,  Mandal SC, Banerjee SK, Sinha S, Das J, Saha BP, Pal M. Studies on antidiarrheal activity of Punica granatum seed extract in rats.
Khan S.A. 2009. The role of pomegranate (Punica granatum L.) in colon cancer. Pak. J. Pharm. Sci.
Chaturvedula Venkata Sai Prakash, Indraprakash. Bio active chemical constituents from pomegranate (Punica granatum) juice, seed and peel – A review. International Journal of Research in Chemistry and Environment.
Rout S, Banerjee R. Free radical scavenging, anti‐ glycation and tyrosinase inhibition property s of a polysaccharide fraction isolated from the rind from Punica granatum.