Bhringraj (Eclipta alba) is also known as Kesharaja and Kesharanjana. It is very good herb to cure various problems related to hair. In market Mahabhringraj hair oil is also available which is very good for hair.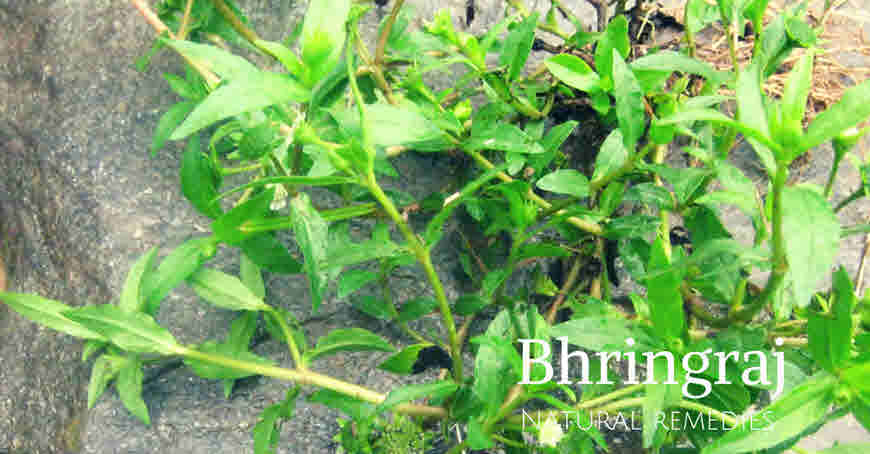 You can also use fresh juice of its leaves for curing dandruff, hair loss and premature graying.
Hair oil of Bhringraj to cure hair problems:
Here is recipe to prepare Bhringraj oil at home. The ingredients are fresh leaves of Bhringraj and coconut oil.
This oil help to cure problems such as dandruff, hair fall and hair graying. Extract juice of bhringraj leaves and mix with coconut oil in 1:1 ration. Cook at low flame till all water get evaporated and only oil is left. Put this oil in bottle and use in hair massaging.
Hair fall:
Take Bhangra, amla, reetha, shikakai and make power of it. Soak in iron vessel in night and apply on roots of hair next day and wash after an hour. This helps to reduce hair fall and strengthens roots of hair.
Dandruff:
Mix 15-20 ml bhringraj juice with suhaga powder, yoghurt and apply on hair roots for an hour and then rinse with water.
Hair greying:
Take Triphala, iron powder and leaves juice of bhangra. Soak in iron vessel at night and next day apply on hair till it dries. Wash hairs and do it once a week.