Mangifera indica or Mango tree is very well-known for its juicy and tasty fruits. This tree is found throughout India. In Ayurvada its various parts such as leaves, bark, fruits, and roots are used to treat various diseases. Mango leaves have antioxidant, astringent, hypotensive, refrigerant, wound healing and anti-diabetic activities.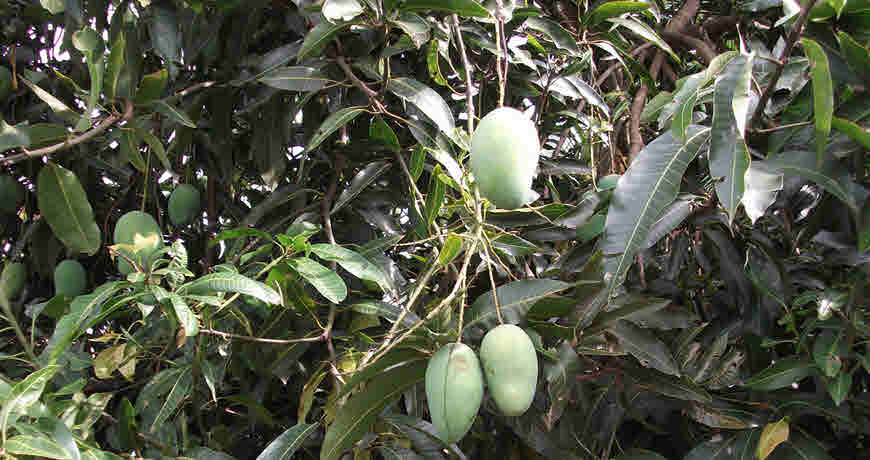 General Information
Latin name: Mangifera indica
Family: Anacardiaceae
Sanskrit: Ambrah, Madhuulii, Madhuula,  Madhuulaka
English: Mango
Hindi: Aam
Gujarati: Ambo, Keri, Marv (unripe)
Punjabi: Amb
Marathi: Amchur, Amba
Malayalam: Amram
Tamil: Ambiram
Part used: roots, bark, leaves, flowers, fruits, seed kernels
Following are medicinal uses of mango tree leaves
Liver weakness

Take shade dried leaves of mango (5 gm) and boil in water (250 ml) till water reduces to half. Filter and drink.

Diabetes

Wash and clean fresh mango leaves. Dry in shade and grind to make powder. Take this powder (1/2 – 1 teaspoon) with water or buttermilk twice a day or soak fresh mango leaves in water at night. Next morning mash the leaves and filter water. Drink this water every morning.

Hiccups (Hikka rog)

Extract fresh leaves juice. Mix with coriander leaves juice and drink (5 ml) with water thrice a day.

Cholera

Boil mango leaves (15 gms) in water (500 ml). Cook till water reduces to one fourth. Filter and drink twice a day.

Nausea, vomiting

Prepare cold infusion of mango and jamun leaves. Add honey and drink.

Sujak

Wash and clean fresh mango leaves. Dry in shade and grind to make powder. Take this powder (6 gm) twice a day with water.

Diarrhoea, dysentery

Take handful leaves of mango. Prepare decoction and drink thrice a day.
Mango leaf tea is most convenient method to consume this. But never consume mango leaves continuously for more than 1 week as it can reduce your blood glucose level below normal level.
How much mango a diabetic can eat?
In diabetes their are several myths and one most common is diabetic people should not eat sweet fruits, Mango is a sweet fruit so it can not be consumed by diabetic people. But truth is different. If you ask to your doctor then he will tell what fruits you can eat but in limited quantity.
Fact is that total amount of carbohydrate in a food affect blood sugar is more than other sources of  carbohydrate like sugar. For diabetic people one serving of fruit should contain 15 gm  carbohydrate. The size of the serving depends on the carbohydrate content of the fruit. If some fruit contains less carbohydrate then that can be eaten in more quantity.
Mangos are great source of nutrition and carbohydrate also. You can get 15 gm carbohydrate from 85 gm Mango pulp. So it's good new for people suffering from type 2 diabetes. At least then can eat 1/2 cup mango. There are other benefits of mangos especially for diabetic people as it improves digestion and reduces cholesterol.
If you are diabetic still you can eat 1/2 cup mango but you have to cut other carbohydrate intake to balance your diet.
Above is the reason why diabetic are not  advised to eat mangos because eating only 85 gm Mango is very painful for Indians and you have to cut other calorie intake.