Curcuma angustifolia plant is known by many vernacular names such as Tikhur, Thugasheeri, Tvakshira (Hindi, Sanskrit), Indian Arrow root (English), Shotti (West Bengal), haledo (Sikkim), Koova powder (Malayalam) and Koova podi (Tamil).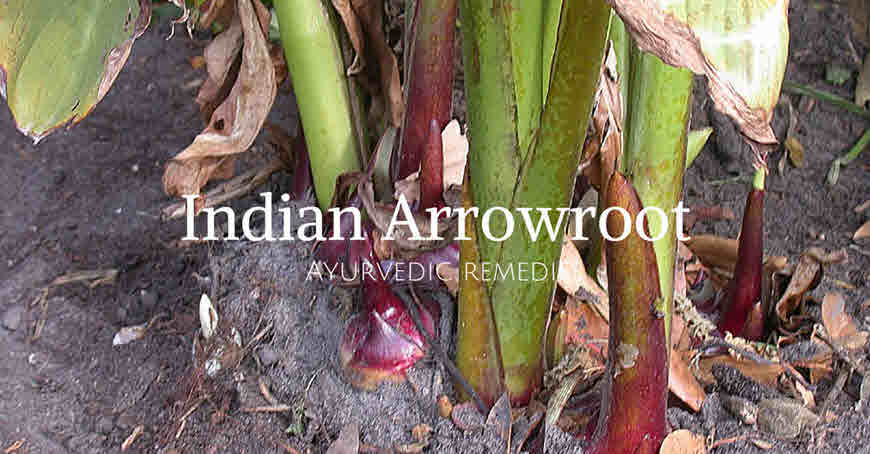 It belongs to family Zingiberaceae and Genus Curcuma. In India, this is mainly cultivated in Bihar, West Bengal, Maharashtra and South India (Kerala, Tamilnadu, Karnataka, Andhra Pradesh). The roots of the plant are processed to obtain an edible starch (available as tikhur, shotti in market) which has properties similar to arrowroot and corn starch. This starch is used as food and also as a medicine.
Scientific classification
Kingdom: Plantae – Plants
Subkingdom: Tracheobionta – Vascular plants
Superdivision: Spermatophyta – Seed plants
Division: Magnoliophyta – Flowering plants
Class: Liliopsida – Monocotyledons
Subclass: Zingiberidae
Order: Zingiberales
Family: Zingiberaceae – Ginger family
Genus: Curcuma L. – curcuma P
Species: Curcuma angustifolia Roxb. – East Indian arrowroot
Common names:
Ayurvedic: Tvakshira, Tvakshiri Unani: Tikhur, Tabaasheer Siddha: Ararut-gaddalu
How Starch is extracted
Curcuma angustifolia is also known as East Indian arrowroot as the roots provides an easily digestible starch. For extraction of starch, the rhizomes are washed, peeled and kept in sufficient amount of water for overnight. Next these are grinded to get smooth paste. The paste is kept in a vessel and is allowed to settle. Then the excess water lying above the precipitate is drained and the residue is washed by adding water. The process is repeated to remove all the impurities till pure white starch is obtained which is sun dried to get starch powder. The completely dried starch is stored in bottles for future use.
Traditional Medicinal uses
In some parts of India Curcuma angustifolia/East Indian arrowroot is used as weaning food for babies. The starch which is obtained from the rhizomes is given to babies three-four times a day after boiling in water or milk. This preparation is given as a traditional food for babies. Sometimes it is used as replacement of the mother's milk.
The starch has cooling effect on the body. It gives relief in irritation and inflammation. It is given to heal peptic ulcers and in the treatment of dysentery. It is also used as tonic and nutritious food in weakness, chronic diseases, jaundice and excessive thirst.