Karela also known as bitter gourd or bitter melon in english and the botanical name Momordica charantia has many medicinal properties. Its use diabetes is well-known. In ayurveda it is used in many conditions such as arthritis, blood purification, in ear pain, constipation, irregular menses and intestinal parasites.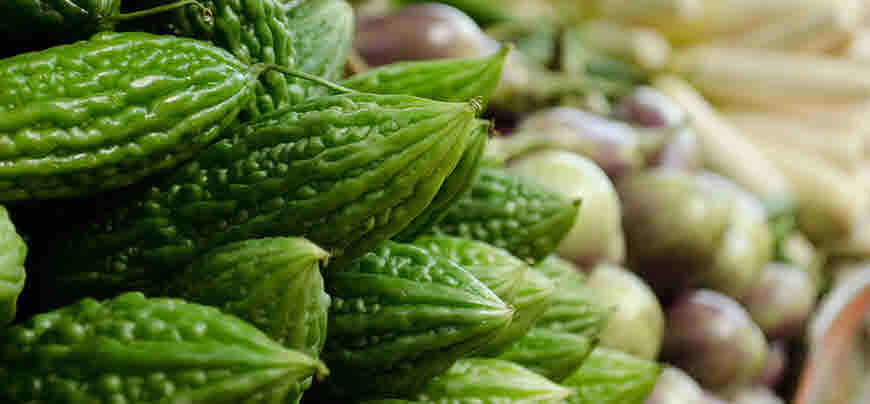 Information
Latin name: Momordica charantia Linn. (Cucurbitaceae)
Sanskrit/Indian name: Karavella, Kathilla, Sushavi, Karela, Kareli
English name: Bitter melon, Bitter Gourd, Carilla Gourd
Generally when cooked its skin is peeled, deseeded and then fried. but in this process its medicinal value decreases considerably. So instead wash karela in saline luke warm water and do not peel the skin. Then using little oil cook at low flame.
For the medicinal purpose Bitter gourd juice should be consumed. Cooking destroy its medicinal properties as many nutrient are lost in process. Its fresh juice can be drink once or twice a day to control diabetes.
Diabetes control using bitter gourd:
Take 1 medium size karela, one cucumber, one tomato, few sadabahar and neem leaves make juice and drink.
Head pain remedy with bitter gourd:
To treat head pain make paste of its leaves and apply on forehead.
Mouth ulcer or blisters:
Extract juice of its leaves or peel of karela and with help of cotton apply on the blisters.
Constipation treatment with bitter gourd:
It is very good for the digestive system and removing constipation. Take in the form of vegetable or extract leaves juice and mix with honey.
In the case of constipation in child give 1 drop of juice with honey on the tongue.
Intestinal parasites:
For worms drink 50 to 100 ml. Drink same amount also in case of piles.
Irregular menses treatment with bitter gourd:
Take sonth, pipli, and kali Mirch and add in karela juice.
Skin problems:
Due to its properties of blood purification cures skin related problems as eczema, pimples. Drink 2-3 spoon of juice empty stomach daily.
Ear pain cure:
Put 3 drops of juice of leaves in ear.
Joint pain cure:
In joint pain roast like baigan and mash then apply at joint.
Please note:
No doubt karela juice is highly beneficial but take it as medicine. Always take it in right amount that is 50-100 ml because in some cases taking too much result in loose motions also take karela juice always in morning empty stomach or 3-4 hrs after breakfast or 3-4 hr before dinner. Do not take in night or after 5 pm because it may give piita dosh.
Recipe for making Karela Bhaji(Fry) which can be eaten regularly
Karela is very famous vegetable for it's health benefits despite of it's bitter taste. It bitter taste is due to quinine. Cooked bitter gourd stimulates the appetite, cleanses the liver, purifies the blood, and provides many other benefits. It is very good food to control glucose level in blood. Here I am writing simple and most common cooked recipe of Karela.
Ingredient for Karela bhaji
– Karela(Bitter Gourd) 3-4 big size
– Onion 1 big size
– Garlic cloves 4-5
– Green Chili(optional)
– Turmeric Powder 1/2 tea spoon.
– Cumin Seeds (1-2 pinch)
– Dry mango Powder(Amchoor)
– Mustard Oil (3-4 spoon)
– Salt to taste
Method
– Wash Karela and cut into thin slices.
– Chop onion in slices and chop green chili
– Heat oil in frying pan and crackle with cumin
– Now add chili and onion and cook till onion get soft
– Now add Karela, salt, turmeric powder and Amchur
– Mix well and cook by putting lid on pan, keep stirring in between.
– Cook till Karela get cooked(soften).
Serve karela with plain parathas, Rice daal, etc.
Note: If you want to remove bitterness of karela you can soak chopped karela in salted hot water for 15 minutes. But for healthy karela bhaji you should avoid it.