Swertia Chirayita is known by many common names such as Chirayata, Chiretta, kirata Tikta, Haima, Chiravata, etc. This medicinal plant is a native of temperate Himalayas and found at an altitude of 1200–3000 m (4000 to 10, 000 ft) from Kashmir to Bhutan, and in the Khasi hills at 1200–1500 m (4000 to 5000 ft.).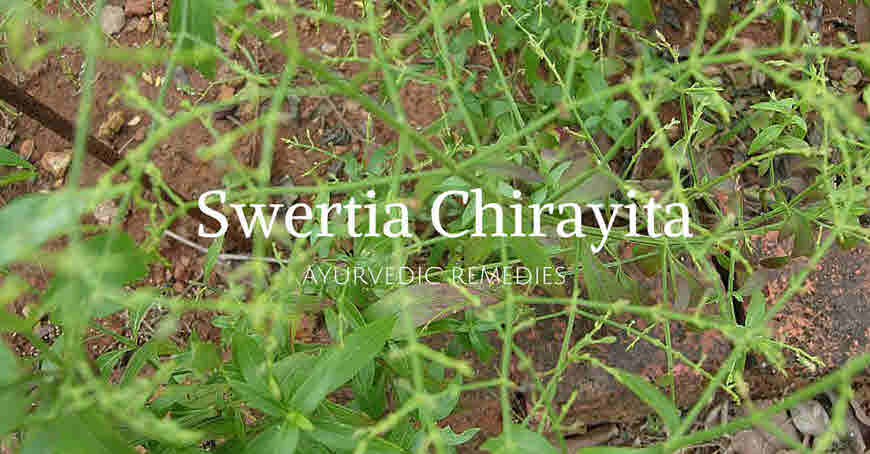 It is an important herb used in Ayurveda for the treatment of fever, inflammation, skin diseases, intestinal parasites and diabetes. Many herbal medicines such as Chinnodbhavadi Kvatha Churna, Ayush-64, Himalaya Diabecon, Mensturyl syrup, Sudarshan churna, Mahasudarshan churna contains this medicinal herb.
Chiretta is similar in action and properties to Andrographis paniculata or Kalmegha and both are known as Bhunimba in Ayurveda.
Latin name: Swertia chirayita (Roxb. ex Fleming) H. Karst.)
Synonyms — S. chirata (Wall.) C. B. Clarke., S. tongluensis Burkill, Gentiana chirayita Roxb. ex Flem., G. chirata Wall., Ophelia chirata Griseb
Family: Gentianaceae
Sanskrit: Kirata, Kirataka, Bhunimba, Kiratatiktaka, Bhunimba, Jwarantaka
Assamese: Chirta
Bengali: Chirata
English: Chireta
Gujarati: Kariyatu, Kariyatun
Hindi: Chirayata, Nepalanimba
Kannada: Nalebevu, Chirata Kaddi, Chirayat
Kashmiri: Lose, Chiraita
Malayalam: Nelaveppu, Kirayathu, Nilamakanjiram
Marathi: Kiraita, Kaduchiraita
Oriya: Chireita
Punjabi: Chiretta, Chiraita
Tamil: Nilavembu
Telugu: Nelavemu.
Urdu: Chiraita
Part Used: Leaves and whole plant
Dosage: Whole plant—1-3 g powder;20-30 g for decoction
The plant
Annual erect plant reaches height 60-125 cm;stem robust, branching, cylindrical below and four angled upwards;leaves ovate, broadly lanceolate, cordate at base;flowers numerous very small, greenish yellow, tinged purple in large leafy panicles;seeds smooth.
Constituents of the plant
Amarogentin or chirantin, a secoiridoid glycoside (the most bitter compound isolated till date);Amaroswerin a Secoiridoid glycoside, Gentianine, Swerchirin, Swertiamarin analgesic, Xanthones, Mangiferin strong anti- inflammatory activity and chemoprotective agent, Lignan hepatoprotective, Triterpenoids, Pentacyclic triterpenoid
Ayurvedic properties and action
Swertia Chirayita or Chiretta is very bitter in taste. It balances Pitta, Kapha and aggravates Vata/wind.
Rasa (Taste): Tikta/bitter
Guna (Characteristics): Laghu/Light, Ruksha/dry
Virya (Potency): Sheet/ Cool
Vipaka (Post Digestive Effect): Katu/Pungent
Medicinal uses of Chiretta
The whole dried plant of Chiretta constitutes the drug. Chiretta is very bitter in taste. It is a blood purifier that removes toxins from the body. Due to this action it is a useful medicine to treat skin diseases.
It has blood sugar lowering effect and a useful cure for diabetes.
It has laxative properties and cures constipation.
It is indicated in hysteria and convulsions.
Chiretta is a good medicine to treat digestive system ailments such as indigestion, diarrhea, low appetite, etc.
Its root is useful in checking hiccups and vomiting. It is taken in doses of 0.5 to 2 grams with honey.
Chiretta whole plant is used to treat fever especially sannipata fever such as malarial fever.
For the treatment of fever, whole plant is dried in shade and pulverised to get powder. This powder has fever reducing (fever due to known or unknown reasons, malarial fever), anti-inflammatory (inflammation reducing), anthelmintic, the liver protecting, anti-diabetic (blood sugar lowering), laxative and tonic properties.
The dosage of this powder for adults is 1-3 grams and for children 250 mg to 500 mg, with water. The dose of decoction for adults is 25-30 ml and for children, it is 5 ml to 10 ml, to be taken twice a day after meals.
Although no toxic effects are reported with Chiretta. But person taking oral blood sugar lowering medicines should take this herbal powder under medical supervision.