Beets, Beetroot(Chukandar) is a very nutritious vegetable. It belongs to family Chenopodiaceae. Some other nutritious member of this family are bathua, spinach (paalak), and chard. Beets are very good source of vitamins, minerals and folate. Folic acids are required in body for cell regeneration and growth. Its deficiency during first trimester of pregnancy can cause birth defects in foetus. So if you are planning for baby or pregnant, start taking beetroot.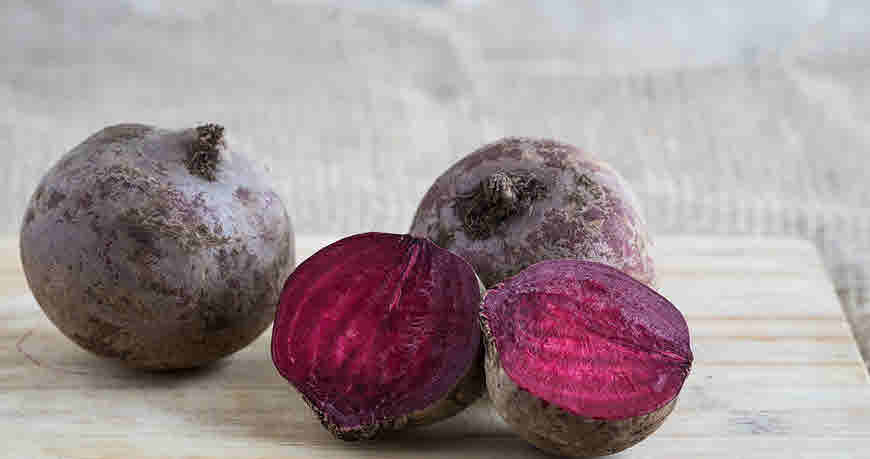 Beet is tonic that helps to improve overall health. It is good for heart and lowers blood pressure. It gives energy, improves stamina due to presence of natural sugar.
Betacyanin, which gives beets purple colour is powerful anticancer agent and inhibits tumour formation.
To know more about benefits of eating beet, read on.
Scientific Name: Beta vulgaris
Common Name: Beetroot, beet, red beet, sugar beet, chukandar
Nutrition Information of Beetroot
Nutrients per 100 g in Beetroot
Protein: 1.6 g
Fat: 0.1 g
Carbohydrate: 9.9 g
Calcium: 16 mg
Phosphorus: 33 mg
Magnesium: 25 mg
Iron: 0.7 mg
Sodium: 60 mg
Potassium: 335 mg
Vitamin A: 20 IU
Vitamin B1:  0.03 mg
Vitamin B2:  0.05 mg
Vitamin B3: 0.4 mg
Vitamin C: 10 mg
Fibre: 2.8 gm
Health benefits of eating Beetroot
Antioxidant, richest sources of flavonoids
Anti-inflammatory effect in the body and reduces the swelling
Contains four important vitamins, nine essential minerals and folic acid
Improves quality of blood, cures anaemia and helps in generation of RBCs
Inhibits tumour/cancer formation caused by nitrates
Good for digestive, lymphatic, excretory and circulatory system
High levels of soluble and insoluble ?bre, cleanses body and cures constipation
Helps to lower blood pressure
Protects liver from toxins
Powerful cleansing action, removes heavy metals, cholesterol deposits from body
Excellent vegetable for women's health as it is good source of folic acid, iron, gives relief in menstrual problems
Also supportive in treatment of uterine ?broids
Supports treatment of kidney and bladder disorders, gallstones, jaundice, gout, constipation, anaemia and cancer (anti-tumour properties)