Vidang is used in Ayurveda especially for treating intestinal worms. It is the main herb of Ayurveda that effectively treats intestinal parasites (tapeworm, ring worm). The dried mature fruits or seeds are used for this purpose. These seeds look similar to white pepper seeds. They have brownish-black color and measure about 2-4 mm in diameter. Their surface is warty with a beak like projection at apex. The outer covering or pericarp is brittle and encloses a single seed covered with thin membrane.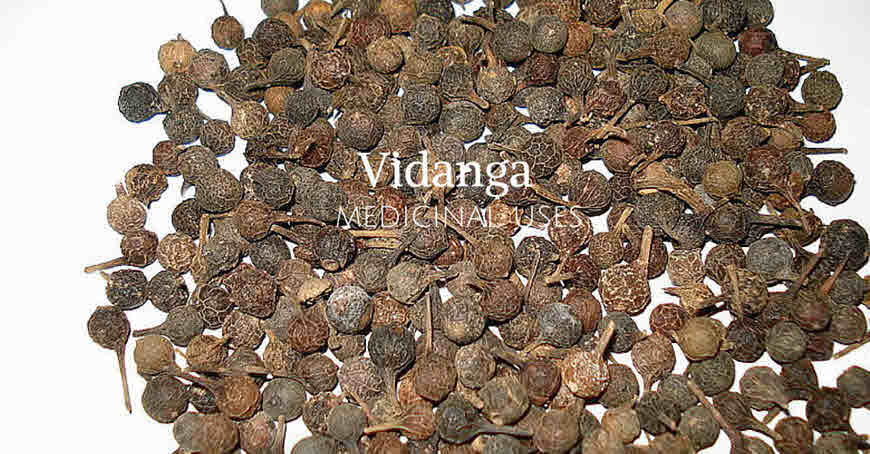 Acharya Sushrut described the seeds of Vidang as anthelmintic, alterative and tonic. He recommended their use along with liquorice/mulheti root for the purpose of strengthening the body. Its use for expelling intestinal parasites is also recommended by Acharya Charak and Vagbhatta.
For expelling intestinal worms, the powder of the seeds are given with honey, or as an infusion of the seeds. It is given early in the morning empty stomach followed by some purgative.
Taxonomical classification
KINGDOM: Plantae
PHYLUM: Angiosperms
ORDER: Ericales
FAMILY: Myrsinaceae
GENUS: Embelia
SPECIES: ribes
BOTANICAL NAME: Embelia ribes Burm. f.
SYNONYM: Embelia glandulifera Wight, Samara ribes Kurz
Vernacular Names
SANSKRIT Amodha, Amogha, Anthunashana Bhasmaka, Bidanga, Chibatandula, Chitra, Chitrabija Chitra-tandula, , Chitratandula, Citratandula, Gahara, Gardabha, Ghosha, J vidangaka, Jantughna, Jantunashaka, Kairala, Kapali, Kevala, Krimighna, Krimiha, Krimikantaka, Krimiripu, Krimishetru, Krmighna, Krmiripu, Mogha, Mrigagamini, Pavaka, Rasayana, Shudratandula, Suchitrabija, Tandula, Tundula, Tunduliyaka, Vara, Vatari, Vella, Vellah, Vidanga, Vidangah, Vidangam, Vrishanashana, Vrishnasana
HINDI Baba-rang, Baberang, Bhabhiramg, Karkannie, vaividang Vayvidamg, Wawrung
BENGALI Bhaibirrung, Biranga, vidang
KANNADA Amogha, Vayi-vulanga, Vayubaliga, Vayuvilanga, Vidanga, Vaayu vilanga, Vilanga, Varana, Vaayu-vilanga, Vayivilanga
MALYALAM Tiriitticanni, Tiruvittikanni, Pu-valli, Vayivalannam, Vilal, Vayvilankam, Visalam, Vishaul
MARATHI Ambti, Baavdinga, Karkannie, Karkunnie, Vaavadinga, Vayvarang Vvavadinga, Waiwarang
ORIYA Vidanga TAMILKattukodi, Vellal, Varnanai Vai vilangam, Vaivitankam, Vayu-vilangam, Vayu-vilamga, Vayivilangam, Vayvilankam PUNJABI Bavidang GUJARAT Bavidang
TELUGU Potosul, Vaividungalu, Vayivilangamu, Vayuvilangam-chettu, Vellal, Vidangamu, Vilangamu, Vayi-vitangamu, VyivilangamuURDU Baobadang, Baobarang (babrang)
SIDDHA: Vaayvidangam, Keralam, Vamanai, Vellal
ENGLISH: Embelia, Embelia fruit
Habitat
Embelia ribes is found in the hilly parts of India, from the central and lower Himalayas down to Konkan, Deccan, Western Ghats and South India. It is commonly seen in places up to the height of 1500 m.
It is also found in Sri Lanka, Singapore, Southern China, south to Indonesia and some parts of Africa.
Botanical Details
A large, Climbing, creeper shrub with long slender, flexible, brittle stem and terete branches;bark studded with lenticels. Leaves simple, alternate, elliptic-lanceolate, gland dotted, short and obtusely acuminate, entire, shiny above;Flowers small, greenish yellow to whitish pink colored;Fruits about the size of white pepper, globose, wrinkled or warty, dull red to nearly black, a short pedicel often present, usually one seeded;outer covering of the fruit is fragile and inside the seed is spotted;single seed is horny with a mildew like appearance due to minute, crystalline powder, depressed at base.
Medicinal Action and Uses
Fruits: Ascaricidal, anthelmintic, purifying, brain Tonic, digestive, carminative, antibacterial, stomachic, diuretic, contraceptive, rejuvenating, alterative, stimulant, laxative, sweat causing, and tonic.
They are useful in intestinal worms, skin diseases, leprosy, pruritus, nervous debility, dyspepsia, jaundice, flatulence, colic, constipation, strangury, tumors, asthma, bronchitis, dental caries, difficult breathing, cardiac diseases, psychological disorders, ringworm, fever, emaciation and general debility.
Seeds:They are used as local application in ringworm and other skin diseases.
Roots: They are astringent, stomachic, and useful in toothache, stomach ache, gas, and indigestion. Leaves: They are astringent, purifying, cough reducing. They are useful in skin diseases.
Parts used for medicinal purpose
For the medicinal purpose the berries/fruits, leaves and roots of the plant are used. The plant is pungent, astringent, hot, and reduces phlegm and pitta. It has action on plasma, blood, excretory and digestive system.
Ayurvedic Properties and Action on body
Rasa (Taste): Tikta/Bitter, Katu (pungent)
Guna (Characteristics): Laghu/Light, Ruksha/Dry, Tikshna/Sharp
Virya (Potency): Ushna/Hot
Vipaka (Post Digestive Effect): Katu/Pungent
Actiom: Krimighna
Doshaghnata: Kapha-vata-shamak
Constituents of dried mature fruits: Benzoquinones, alkaloid (Christembine), tannin and essential oil.
Therapeutic uses: Shula, Krimiroga, Udararoga, Adhman
Dose – 3-5 g of the fruit in powder form.
Traditional Therapeutic Uses
Vidang is used in Ayurveda since ancient time to treat diseases of the skin, abdomen, excessive phlegm and intestinal parasites. It has numerous medicinal properties and among them the important ones are anthelmintic, carminative, antibacterial, antibiotic, hypoglycemic, and antifertility properties.
It has anti-implantation, anti-ovulatory, anti-spermatogenic, and anti-androgenic activities. The plant possess anti estrogenic and a weak presentational activity in rats and causes a disturbance in the hormonal levels. It have a direct action on the behavioral system which act on hypothalamus and releasing factors thereby interfering the secretion of gonadotropins.
The properties and uses of the plant are mentioned in Materia Medica of Ayurveda. According to Bhavaprakasha nighnatu, Vidang is pungent, removes morbidity, improves blood circulation, stimulates appetite, acts against phlegm, makes the body light, and kills worms of all types.
Rajanighantu describes it as pungent, hot, light, enhances balance between wind and phlegm, beneficial in anorexia and improves digestive power.
The powder of Fruit expels tapeworms within 6-24 hours. Fruit powder taken with curd in empty stomach is effective against giardia (intestinal infection caused by a microscopic parasite).
In skin diseases, insect bites, scorpion stings and swelling the paste of fruits is applied externally on the affected areas.
Formulation and dosage
Vidanga Churna:2-4 grams twice a day.
Vidangarishtha:10-15 ml with an equal amount of water twice a day.
Seed/Fruit powder:2-5 grams, with 5 grams honey for two consecutive days empty stomach in the morning. A suitable purgative such as castor oil should be taken hours after intake of powder.
Side effects if Vidanga
Embelia ribes has the following side-effects. Please keep these points in mind while using Vidang or a medicine containing it as an ingredient.
The fruits significantly affects male fertility. It is an antifertility agent. It impairs Spermatogenesis and reduces sperm count to level of infertility. Though anti-spermatogenic changes are found to be reversible without any toxic effects.
The plant parts also show anti-fertility effects in females. It has effects that changes the uterine environment which inhibits the process of implantation. It has anti-implantation and anti-ovulatory effects. It also has oxytocic effects (Hastens or facilitates childbirth, especially by stimulating contractions of the uterus).
The seeds of the plants kills the sperms.
Embelin, isolated from the berries, shows significant anti-implantation and post-coital antifertility activity.
Root extract is prescribed as contraceptive.
Its use can cause abortion.
The use of this plant and its parts can cause sexual debility.