Pigeon pea belongs to legume family and its Latin name is Cajanus cajan. It full of nutrition and offers many health benefits. It is a very well-known and commonly used pulse in India.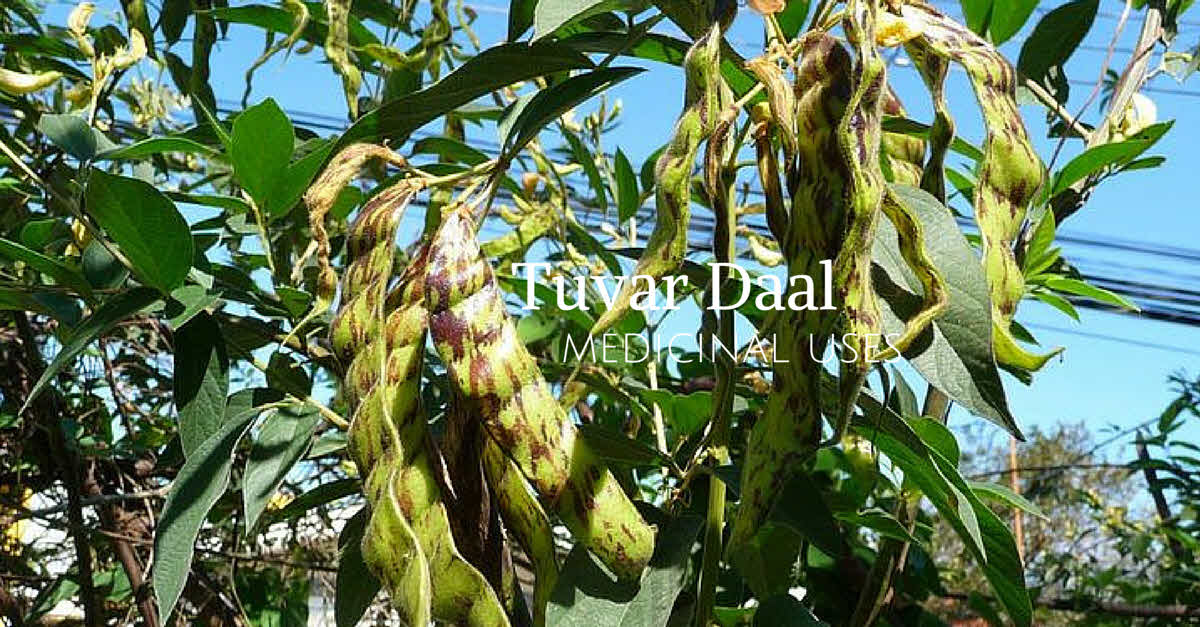 Nutritionally, proteins and starch are the major constituents of pigeon pea. It is reported to contain 20-22% protein, 1.2% fat, and 65% carbohydrate. It is also a good source of protein, dietary fiber, many vitamins and minerals. It is also low in saturated fat, cholesterol, and sodium. It is a good source of folate/folic acid which is especially required during pregnancy to prevent birth defects in developing baby.
Pigeon pea is known as Tuvar Dal (split seed without seed coat) or Arhar ki daal in India. Its other common names are Split Pigeon pea, Yellow Pigeon peas, Tuar Daal, Tovar dal or Tur Dhal.
Dhal or Dal (lentil/pulses) is very popular dish in India and many other Asian countries. For getting Arhar Dal form the whole seeds milling is done. Milling operations include cleaning, grading of seed, conditioning for husk, loosening, dehulling, splitting, and polishing. Polishing is done using cone polisher for glossy appearance.
Pigeon pea is one of the important pulse or legume crop in tropical and subtropical areas of the world. It has been cultivated since prehistoric times. In India, everyone is familiar with it as a well-known Dal/dahl (pulse). Raw Dal is the split dehulled seeds of the plant which are cooked in water.
Most of the people know only about the benefits of its seeds that is pulse. But different part of toor dal plant or Cajanus cajan have been used for medicinal purpose since time immemorial. Its young pods, shoots, leaves all are edible. The leaves are used for mouthwash, tongue sores, gums problems, to induce uterine contraction, loose motions, etc.
Scientific Classification
The botanical name of Pigeon pea is Cajanus cajan and it belongs to the family Fabaceae. The Fabaceae or Leguminosae, family is also known as the legume, pea, or bean family. The synonyms of species are Cystisus cajan L. Cajanus bicolor DC. Cajanus flavus DC. Cajanus indicus Spreng. Its taxonomic classification is as given below:-
KINGDOM Plantae
PHYLUM Magnoliophyta
CLASS Magnoliopsida
ORDER Fabales
FAMILY Fabaceae
GENUS Cajanus
SPECIES Cajanus cajan (L.) Millsp.
Plant Description
Erect, branched, hairy shrub, 1-2 meters high;Leaves oblong-lanceolate to oblanceolate with three leaflets;Flowers yellow, in sparse peduncled racemes, about 1.5-cm long;Pod hairy, 4-7 cm long, 1 cm wide, containing two to seven seeds.
Vernacular names
Sanskrit: Tuvari, Adhaki
Assames: Ruharmah
Bengali: Adar, Aaharee, Arhar
English: Pigeon Pea, Red Gram
Gujrati: Tuvar, Tuvera, Tur, Tuver
Hindi: Arahad, Arahar
Kannada: Togari, Tovaree, Togari, Kari Uddu, Togaribele
Malyalam: Thuvara, Tuvara
Marathi: Toor, Toori, Tura
Oriya: Harada, Kandulagachha
Punjabi: Arhar
Tamil: Tovarai, Thovary, Adagi Tuvari, Thuvarai, Tuvarai, Thovarai
Telugu: Kandulu, Kadulu
Urdu: Arhar
Afghanistan Pashto: Harhar
The dietary nutrients of pigeon pea

Constituents
Green seed
Mature seed
Daal/Dhal
Protein (%)
21.0
18.8
24.6
Protein digestibility (%)
66.8
58.5
60.5
Trypsin inhibitor (units mg-1)
2.8
9.9
13.5
Starch (%)
48.4
53.0
57.6
Starch digestibility (%)
53.0
36.2
–
Amylase inhibitor (units mg-1)
17.3
26.9
–
Soluble sugars (%)
5.1
3.1
5.2
Flatulence factors (g 100 g- 1 soluble sugar)
10.3
53.5
–
Crude fibre (%)
8.2
6.6
1.2
Fat (%)
2.3
1.9
1.6
Minerals and t race elements (mg 100-1g dry matter)
Calcium
94.6
120.8
16.3
Magnesium
113.7
122.0
78.9
Copper
1.4
1.3
1.3
Iron
4.6
3.9
2.9
Zinc
2.5
2.3
3.0
Vitamins (mg 100-1 g fresh weight of edible portion)
Carotene (Vitamin A 100-1g
469.0
Thiamin (Vit B1)
0.3
Riboflavin (Vit B2)
0.3
Niacin
3.0
Ascorbic acid (Vit C)
25.0
(Source: Faris et al. 1987)
Constituents
Green Leaves Constituents
Leaves of the plant are rich in flavonoids and stilbenes. Leaves also contains cajanuslactone, cajanin, longistylin C and longistylin A. They also contain saponins, conspicuous amount of tannins, and moderate quantities of reducing sugars, resins and terpenoids.
Leaves possess antibacterial activity against Gram-positive micro-organisms. They also have hypocholesterolemic, anti-inflammatory, antidiabetic, antioxidant, laxative, diuretic, cooling and anodyne properties.
Roots Constituents
Roots possess genistein and genistin. It also contains hexadecanoic acid, α amyrin, β-sitosterol, Pinostrobin, longistylin Aand longistylin C due to which roots possess anticancer activity. Cajanuslactone presence imparts antibacterial activity. Presence of cajaninstilbene acid, pinostrobin, vitexin and orientin imparts antiplasmodic activity. Roots also have antioxidant activity.
Medicinal Uses of Pigeon peas or Toor Dal plant
Due to the presence of a number of polyphenols and flavonoides, pigeon pea plant possess several medicinal properties. The leaves, stem, twigs and roots of the plant are used for medicinal purposes in India, Bangladesh, Africa, China and South America. The Garo tribes of Bangladesh use this plant to treat diabetes. In Trinidad and Tobago the leaves are used in food poisoning and in constipation.
In Chinese folk medicine, the leaves are used to stop blood flow, and to kill parasites. They are also used for the treatment of wounds, bedsores, malaria, and diet-induced hypercholesterolemia. In Tamil Nadu, the leaf, seeds and young stems are used to cure gingivitis, stomatitis. The plant is also used as toothbrush.
In treatment of jaundice, the paste of leaves is taken with salt and water on an empty stomach.
The leaves are also used orally for stomach pain.
The juice of leaves is used for lowering blood sugar level in diabetes.
The dried root powder of the plant are given in a dose of 2-6 grams for purifying blood.
In piles, the paste of the leaves is mixed with a teaspoonful of paste of neem leaves, and is taken once daily for a week.
The leaves are chewed for tongue sores, gum inflammation and spongy gums.
External uses
The leaves are also used topically for treating measles and other skin eruptions. The infusion of leaves is also used for bathing in measles.
In swelling due any reason, the poultice of leaves is applied externally.
The young leaves poultice is used on inflammation of gums.
The leaves paste is also applied on sores.
Other Uses of Pigeon pea Plant
Leaves are used for rearing silkworms.
Green pods are used as a vegetable.
Husk, leaves and tops are used as fodder and also as green manure.
Health Benefits of Arhal Daal
It is a rich source of protein and the important amino acids methionine, lysine and tryptophan.
It is significantly higher in Sulphur-containing amino acids (cysteine and methionine).
It contains folic acid.
It is a good source of complex carbohydrates.
It is a good source of dietary fiber.
It is free of cholesterol.
It contains minerals and vitamins. It is a good source of crude fiber, iron, Sulphur, calcium, potassium, manganese and water soluble vitamins especially thiamine, riboflavin, niacin.
It is also low in saturated fat, cholesterol, and sodium.
It is easily digestible.
It can be eaten daily.
Simple Recipe for making Toor Dal/Yellow Pigeonpea/Arhar Daal
For making cooked Toor dal, the main ingredients required are Dal, turmeric, salt and of course water.
How much water is added to raw dal while cooking decides the consistency of cooked daal. Too much will make dal watery and too less will make it very thick. For normal consistency, add 4 cup water for 1 cup raw toor dal. You may add some other ingredients such as tomatoes, garlic, etc.
First you need to soak dal in water for about 10-30 minutes. Then wash it 2-3 times and put in pressure cooker. Add 1 teaspoon or as per taste salt, 1/4-1/2 teaspoon turmeric and water. Close the lid of cooker, put on high flame and wait for the whistle. After first whistle, reduce the flame and cook for another 5 minutes.
For tadka, take a pan. Add 1 spoon desi ghee. Heat it and, add cumin seeds/jeera.
Allow the seeds to crackle and then add 1 bay leaf and 2 dried red chili. Sauté for a few seconds on low flame. You may add this simple tadka to dal or you can further add few more ingredient to this tadka. Add chopped garlic and let them turn golden then add finely chopped onions. Let them turn translucent. Add tomatoes and some salt. Keep stirring for a few minutes on low flame, till it is cooked. Add this to cooked dal and eat with rice.