Sharapunkha herb is used in Ayurveda specifically for treating diseases of the liver and spleen. Its oral intake improves the function of the liver. It is used in the treatment of the liver diseases like hepatitis, cirrhosis from ancient time. This herb promotes regeneration of the liver tissues. It removes obstruction of the kidney.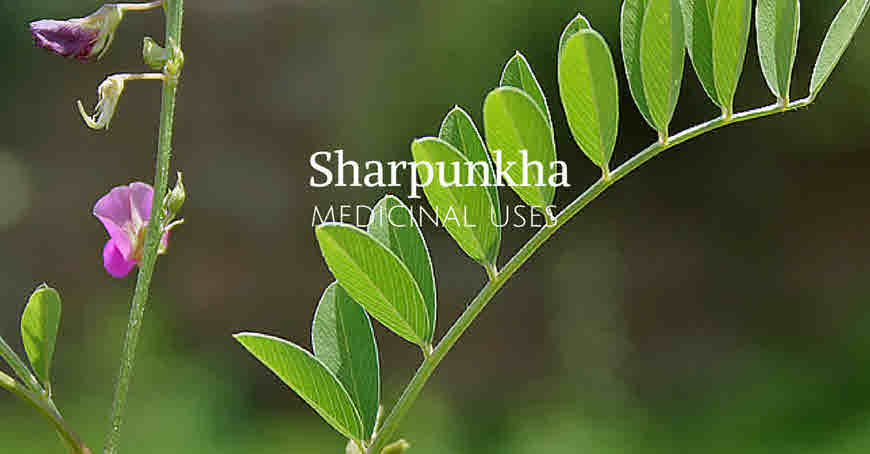 Sharapunkha is also used in the treatment of many other diseases such as bronchitis, asthma, fever, jaundice, ascites, dropsy, etc.
General Information
Scientific Classification
The botanical name of Sharpunkha is Tephrosia purpurea. Shwet Sharapunkhaa (stems: Covered with white hair;flowers: pale pink or pale violet) is equated with T. villosaPers.
This herb belongs to plant family Fabaceae (pea family). Below is given taxonomical classification of the plant.
Kingdom: Plantae
Sub kingdom: Tracheobionta
Superdivision: Spermatophyta
Divison: Magnoliophyta
Class: Magnoliopside
Sub class: Rosidae
Order: Fabales
Family: Leguminosae (fabaceae)
Subfamily: Papilonaceae
Genus: Tephrosia Pers.
Species: Tephrosia purpurea (Linn) Pers.
Synonym: T. hamiltonii Drumm
Part(s) used for medicinal purpose: entire plant;decoction of whole plant, root powder and root juice, leaf juice, leaf powder.
Plant type: wasteland weed.
Distribution: All over India;also grown as green manure and as cover crop.
Vernacular names/Synonyms
Ayurvedic: Sharapunkha, Vishikha-punkha, Sarphoka, Surpunkha, Plihaa-shatru, Plihaari
Unani: Sarponkha, Sarphuka.
Siddha: Kattu-kolingi, Kolingi, Paavali, Mollukkay, Kollukkayvelai.
Sanskrit: Sarapunkah, Sarpunkha, Sarpankha
Hindi: Sarphomka, Sarphonk, Sarpunkha, Sarpankha
Bengali: Bannilgach
Malayalam: Kattamari, Kozhinjil
Tamil: Kattukkolincai
Kannada: Phanike
Gujarati: Unnali
Rajasthani: Masa
Punjabi: Jhojro
Marathi: Untoali
English: Purple Tephrosia, Fish poison, Wild indigo
French: Bois nivre
Persian: Barg sufar
Urdu: Sarfonka
Sinhalese: Pila, Kavilai, Kolinchi
Hawaiian: Auhuhu, Auhola, Hola
BOTANIC DESCRIPTION
Tephrosia purpurea is a small shrub that grows up to 1.5 meters tall. It has bi-pinnate leaves with 7 to 15 leaflets, the terminal leaflet being solitary. The leaflets are 10 to 32 mm long and 5 to 11 mm wide. The peas like flowers are white to purple and arranged in inflorescences that are up to 25 cm long. The individual flowers have corolla parts that are between 2 to 3 mm long. The pods are straight and somewhat up curved at the terminal end and may range from 20 to 45 mm in length and 3 to 5 mm breadth. When dry, the pods split along two valves to reveal 2 to 9 black rectangular seeds 2.5 to 5 mm long and 1.8 to 3 mm wide.
Constituents of Sarpunkha
The plant contain flavonoids such as rutin, purpurin, purpurenone and purpuritenin and quercetin, retenoids like deguelin, elliptone, rotenone, tephrosin and sterols such as sitosterol. .The major constituents are Rutin, quercetin, retenoids deguelin, elliptone, rotenone, tephrosin and lupeol.
Important Medicinal properties of Purple Tephrosia (Tephrosia Purpurea) Sharpunkha
Anthelmintic: expel parasitic worms (helminths) and other internal parasites from the body.
Antipyretic/antifebrile/febrifuge: Effective against fever.
Anti-hyperglycemic: Counteracting high levels of glucose in the blood.
Deobstruent: Removing obstructions;having power to clear or open the natural ducts of the fluids and secretions of the body.
Diuretic: Promoting excretion of urine/agent that increases the amount of urine excreted.
Depurative: Purifying agent.
Hepatoprotective: prevent damage to the liver.
Immunomodulatory: modifies the immune response or the functioning of the immune system.
Laxative: tending to stimulate or facilitate the evacuation of the bowels.
How to Use Sarpunkha plant
For the medicinal purpose whole plant is used in the form of juice, paste, decoction and powder.
Paste: The leaves, flowers and tender twigs are washed and ground to form a paste.
Leaf juice: The leaf juice is extracted by pounding leaves and then squeezing through clothes. Dosage:14-28 ml.
Dry powder of the plant: For making power of the plant, the plant parts are cleaned, cut and dried in the sun.
The dried parts are then ground to get the powder. Dosage:3-5 grams.
Decoction: For making decoction, five to ten grams of dried powder of whole plant is taken and boiled in one glass of water. It is cooked till volume reduces to one-fourth. It is filtered and taken.
Medicinal Uses of Sharpunkha
In Ayurveda, whole plant of Sharpunkha is used for medicinal purpose. All parts of the plant have tonic and laxative properties. The dried plant is deobstruent and diuretic. It is used in the treatment of bronchitis, obstructions of the liver, spleen and kidneys.
Sharpunkha dry powder is also used in removing toxins from the blood. It works like a blood purifying agent and is useful treatment of boils, pimples and other skin diseases.
The decoction of the fruit is indicated in intestinal parasites.
Sharpunkha plant has property to heal all types of wounds (Sarva vranvishapaka).
Liver cirrhosis, jaundice, and other Diseases of the liver, Spleen diseases
1. Prepare decoction of the plant and drink twice a day.
2. Fresh juice (14-28 ml) of whole plant is given twice daily.
3. Powder (1-3 gram) of whole plant is given with one cup milk.
Enlargement of the spleen, Diseases of the spleen and the liver
1. Paste of root (1 to 2 gram) is given with buttermilk/Chach, twice daily.
2. Drink decoction of the plant.
Dropsy
Fresh juice (14-28 ml) of whole plant is given twice daily.
Angina pain, heart palpitation
Prepare decoction by boiling Sharpunkha panchang (5 gram), Arjun bark (5 gram) and Clove (2-3) in one glass water. Cook till initial volume reduces to one-fourth. Filter and drink. Take twice a day.
Excessive cough, coughing, Kasa
Prepare decoction by boiling Sharpunkha panchang (panchang means all five parts of the plant viz. leaves, stem, flowers, fruits and roots) (5 gram), tulsi patti (7 leaves) and dry ginger powder (2-3 gram) in one glass water. Cook till initial volume reduces to one-fourth. Filter and drink.
Hyperacidity
Drink decoction of Sharpunkha panchang.
Abdominal pain, flatulence
Drink decoction of Sharpunkha panchang.
Removing toxins from blood, blood purifying, diseases of the skin, boils
Prepare decoction of Sharpunkha plant with few Neem leaves and drink.
Malarial fever, Visham Jwar
Prepare decoction by boiling Sharpunkha panchang (5 gram), and giloy powder (5 gram) in one glass water. Cook till initial volume reduces to one-fourth. Filter and drink. Give twice a day.
External Uses
Toothache
The leaves of the plant are pounded to make a paste which is applied on teeth for ½ hours/day for three days.
Non-healing wounds
Boil Sharpunkha and few neem leaves in water and Wash the affected area.
Swelling, inflammation
Prepare poultice of the plant and tie at the affected area.
Reference
Khatri A, Garg A, Agrawal SS. Evaluation of hepatoprotective activity of aerial parts of Tephrosia purpurea L. and stem bark of Tecomella undulata. J Ethnopharmacol 2009;
Rangama BNLD, Abayasekara CL, Panagoda GJ. Antibiotic activity of Tephrosia purpurea (fabaceae)
and Mimusops elengi (sapotaceae) against some clinical bacterial isolates. Proc Peradeniya Univ Res
Sess. 2007;
Damre AS, Gokhale AB, Phadke AS, Kulkarni KR, Saraf MN. Studies the immunomodulator activity of flavonoidal fraction of Tephrosia purpurea. Fitoterapia 2003;74:257.61.