Black Cumin Oil is obtained from seeds of the Nigella Sativa plant. Nigella sativa plant belongs to family Ranunculaceae and is known as Black Cumin/black seed, Small Fennel (English), Upkunchikaa, Krishna jiraka (Sanskrit), Kalonji/Kalunji, Kala jeera (Hindi, common name), Kamaazaruus(Unani) and Karum seeragm (Siddha or Tamil).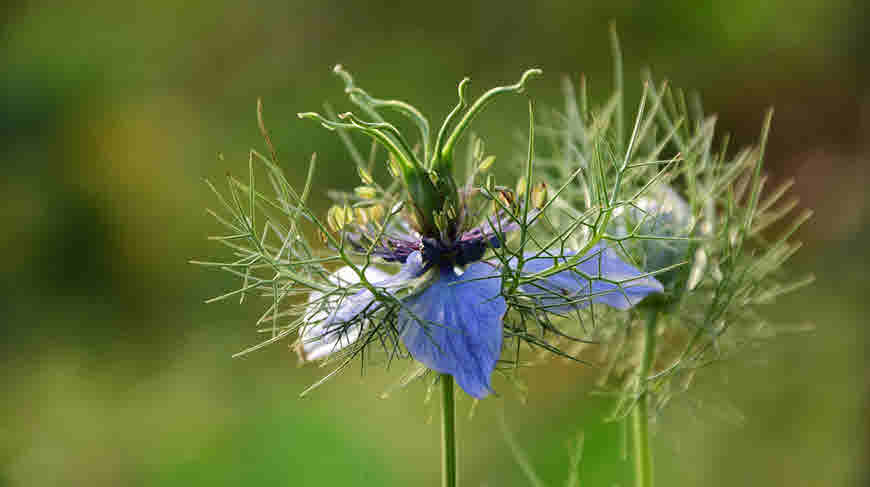 The seeds are black in color and has stimulant, carminative, diuretic, lactiferous, emmenagogue (stimulate uterine contractions) activities. The oil obtained from the seeds of Nigella plant is used traditionally for cold, cough and bronchospasm. This oil can be used internally as well as externally.
The oil of black cumin has hypoglycemic, anti-diabetic, anti-hypertensive, anti-inflammatory, antibacterial, anti-tumor and cardio protective activities.
This oil can be used as an adjuvant along with the medicines. It is safe and compatible with any type of drugs. Nigella oil is effective in the treatment as well as prevention of diseases, but takes time to show the results. It should be used regularly for period of attest 2 months or even few months.
Use of Black Cumin Oil
Improving Immunity
Regularly take this oil in dosage of 25 drops, twice a day for a duration of three months.
Allergic dermatitis, eczema, facial skin rashes
Take 2-3 teaspoon of black cumin oil. Apply externally on the affected areas. Do the same for a few months.
Prevention of pollen allergy
Take internally 1/2 teaspoon of black cumin oil twice or thrice a day.
Sound sleep
Add 1 teaspoon of black cumin oil and honey in cup of warm milk. Drink before going to bed.
Improving immunity, concentration
Take 1 teaspoon of black cumin oil, once a day.
Toothaches, gum swelling
Apply few drops on the affected areas.
Disturbed sleep
Massage cumin oil on temples.
Itching, wounds
Apply topically the black cumin oil. This gives relief from itching and also has anti-inflammatory effect. Its application on wounds and cuts helps in quick healing.
Massage oil
Mix jojoba oil (100 ml) and black cumin oil (20 drops). Use this for massaging.