Terminalia arjuna or Arjun tree is a large evergreen tree native to India. It is found throughout the country. Arjuna is a medicinal tree and its various parts are used in the treatment of a variety of ailments especially heart diseases. Its fruit paste is applied on wounds, bark powder is used in heart diseases, the bark paste mixed with honey is used to improve complexion. The tree bark is cardio tonic and effectively treats heart palpitation, angina and poor coronary circulation. The dried bark powder with rice washed water is used to treat blood in urine. Chewing fresh bark and swallowing the juice works as an antacid.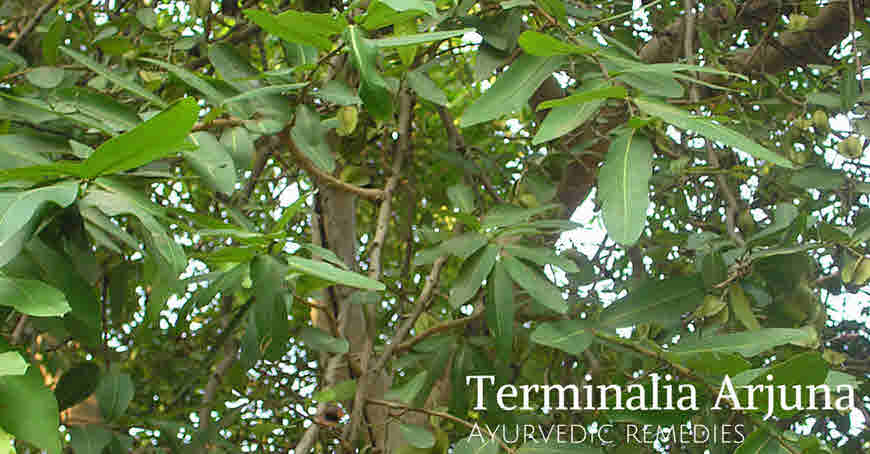 Scientific Classification
Kingdom Plantae
Division Magnoliophyta
Class Magnoliopsida
Order Myrtales
Family Combretaceae
Genus Terminalia
Species T.arjuna
Latin Name: Terminalia Arjuna Synonym — Pentaptera arjuna Roxb. ex DC.
Vernacular names
Sanskrit: Arjuna, Dhanvi, Indradruma, Kakubha, Karvirak, Dhananjaya, Partha, Virataru
Hindi: Koha, Arjun, Arjuna, Arjan, Kahu
English: White Marudah, Tropical almond, Arjun, Malabar almond, Arjuna
Bengali: Arjhan
Gujarati: Sadado, Sadada
Marathi: Arjuna, Arjun Sadada, Sadura
Oriya: Arjuna, Sahajo
Malayalam: Marutu, Nirmarutu, Venmarutu,
Attumarutu, Pulamatti
Kannada: Maddi
Telugu: Thella Maddi
Tamil: Marudha Maram, Attumarutu, Nirmarutu, Vellaimarutu, Marutu
Thai: Dhanvi, Rok Faa Khaao, Kakubha
Arjun Tree description
Large evergreen tree;Bark smooth, whitish-grey smooth with 1/3rd inch width outside and flesh colored inside, flaking off in large flat pieces;Leaves simple, sub-opposite, oblong or elliptic, coriaceous, crenulate, pale dull green above, pale brown beneath, often unequal sided, nerves 10-15 pairs and reticulate;Flowers white, arranged in panicles of spikes with linear bracteoles;Fruits ovoid or oblong with 5-7 short, hard angles or wings, the lines on the wings oblique and curving upward.
Constitutes of T. Arjuna parts
Fruits contain flavanones – arjunone and 5, 7, 2', 4' – tetramethoxy flavone and a chalcone – cerasidin, b-sitosterol, friedelin, methyloleanolate, gallic acid, ellagic acid and arjunic acid.
Bark contains triterpene arjungenin, triterpene glucosides I, II and III, flavones – baicalein and arjunolone characterised as 6, 4' – dihydraxy – 7-methoxy flavone, oxalic acid and tannins and complex glycosides.
Ayurvedic Properties and Action on body
Rasa (Taste): kashaya/Astringent,
Guna (Characteristics): Ruksha/Dry
Virya (Potency): Sheet/ Cool,
Vipaka (Post Digestive Effect): Katu/Pungent
Uses: Obesity, wound healing, heart diseases, diabetes, dark skin discoloration
The Dosage of the tree bark: 3-6 grams in powder form.
Medicinal uses of Arjuna tree
The bark of Arjuna tree is a well-known heart tonic and is useful in the treatment of all forms of heart disease. It is one of the best herb for the heart diseases. The bark is cardioprotective, cardio Tonic, removes obstruction from fluid channels, astringent and capable of reducing fever. It is effective in the treatment of elevated blood pressure, palpitation of the heart and angina. Arjuna bark tones the heart, stimulates blood circulation, stops bleeding and strengthens the heart muscle. The bark has anti-dysenteric, astringent, anti-asthmatic, fever reducing, expectorant, cardio tonic aphrodisiac and diuretic properties. Bark works on the central nervous system, circulatory system and reproductive system (aphrodisiac, abortifacient or induces abortion).
The various aerial parts of the tree exhibits semen coagulant activity. The fruits are deobstruent (possess power to open the natural ducts of the fluids and secretions of the body).
The tree bark is also useful in ulcers, fractures, cardiopathy, fatigue, asthma, bronchitis, tumors, internal and external haemorrhages, cirrhosis of the liver, anemia and diabetes. In bone fractures, bark powder is taken with milk. The bark has diuretic (stimulates urine production) action.
Also Read: Two famous Ayurvedic medicines containing Arjuna bark are Arjun Ksheer Pak, Arjuna Ghrita and Arjunaristha. The tree bark is given in the liver cirrhosis as tonic.
Uses of Arjuna in Heart diseases
1. In heart palpitation, regular intake of 3-6 grams of Arjuna bark with one glass tomato juice is an effective remedy.
2. Arjuna tree bark oral intake is effective in managing high blood pressure.
In high blood pressure, stress, headache due to high BP, decoction of bark should be taken. For preparing decoction, take bark powder (5 gm) and boil in water (200 ml) till volume reduces to one fourth. Filter this and drink.
3. In all types of heart diseases, regular intake of 3-6 grams of the tree bark with one cup milk is very effective.
For chest pain, increased heart beats, anxiety and similar heart related problems, regularly eat Arjuna bark Halwa. It is prepared similar to any other halwa. First, wheat flour (20 g) is roasted well in Gau-ghrita (Cow's milk ghee). Then 3-6 grams of Arjuna bark, sugar/misri as per taste and water is added to prepare halwa.
4. In various heart diseases, palpitation, angina, weakness of heart and as a cardio Tonic, Arjun Ksheer Pak is an effective home remedy.
Decoction of Arjuna bark (in a dose of 40ml) after earlier heart attack, when taken twice a day strengthen heart.
Medicinal Uses of Arjuna Bark in other diseases
Oral, gum problem, mouth ulcer, infections
Prepare decoction of fresh Arjun bark and gargle with this to cure oral gum problems and oral infections.
Leucorrhoea (Shevt pradar)
Soak bark powder (2 tbsp) in water at night. Next morning drink this water. Or prepare decoction and drink regularly.
Bone diseases, Bone fracture, Amoebiasis, Digestive problems
Drink decoction of Arjun bark.
Chronic fever, Sinusitis, cough
Prepare decoction of Arjun bark powder, neem leaves and tulsi leaves. Filter and drink.
Bloody dysentery, Haemorrhage or Rakta Pitta, chronic fever, Menorrhagia
Regularly take Arjun Kshir Pak.
Urine retention
Drinking 40 ml decoction of bark has diuretic action and this gives relief in urinary disorders.
Fractured bone
Take 3-6 grams of bark powder with one cup milk.
Ear pain
Extract Arjun leaf juice and put few drops in ear.
Hyperpigmentation, pimples on the face
Apply paste of Arjun bark on the affected areas.
Melasma, darkening or tanning of facial skin
The tree bark is crushed finely and mixed with honey. It is applied topically on the affected facial area.
Leucoderma (Safed Kustha)
Prepare paste of Arjun bark, punarnava mool, Bakuchi seeds and apply on the affected area.